Welcome to our newest Members: Kazakhstan, Egypt and Zambia!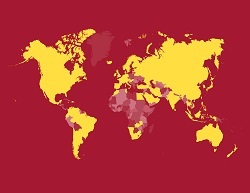 WorldSkills is a movement worldwide. Our membership of countries and regions spanning the globe is proof that employment challenges related to the lack or undervaluation of skills is a worldwide issue. Now is the time when we are collaborating to take action and overcome these issues. We are educating and training our youth and providing opportunities for them to build a sustainable future in a strong economy in their home countries.
The 70th Member of WorldSkills is Kazakhstan
The Republic of Kazakhstan, commonly referred to as Kazakhstan, is the world's largest landlocked country by land area. With over 2.7 million square kilometers, the country borders Russia, China, Kyrgyzstan, Uzbekistan, and Turkmenistan. From steppe and flatlands to snow-capped mountains and deserts, Kazakhstan has approximately 17 million people, including those living in the capital of Astana.
Since they claimed independence in 1991, Kazakhstan has pursued a balanced foreign policy and worked to develop its economy. Becoming a Member of WorldSkills will provide opportunities to develop the economy through the promotion of skills excellence to local youth.
The main goal of Kazakhstan's participation in the WorldSkills movement is to compose an effective system of professional training and stimulate innovative processes in VET. Participating in the movement generates a team spirit and promotes healthy competition, which has a positive impact on improving motivation of learning and involvement of young people in the VET system.
Becoming a Member of WorldSkills will have the potential to create a multiplier effect in the transferring of skills excellence in their VET systems through the exchange of knowledge with other participants. Global WorldSkills Competitions will provide a positive impact on the prestige of learning in the VET system. The WorldSkills movement will enable connections to establish contacts with various international organizations in the technical and professional training fields for all educational organization in VET.
We welcome Kazakhstan as a Member of WorldSkills so they can take full advantage of the benefits from being a part of the organization and our networks.
The 71st Member of WorldSkills is Zambia
The Republic of Zambia is a landlocked country in southern Africa, bordering the Democratic Republic of the Congo, Tanzania, Malawi, Mozambique, Zimbabwe, Botswana, Namibia, and Angola. With a population of over 14 million, the tropical country is just over 750,000 square kilometers, including Lusaka, the capital city.
Technical education and vocational training are important components of the education and skills development sector that contribute significantly to economic development. However, this sub sector has faced a lot of challenges in Zambia, including lack of investment, lack of a comprehensive and integrated curricula, and poor state of vocational education. Zambia's Technical Education, Vocational Entrepreneurship Training (TEVET) program is designed to address this but the impact has not yet been substantial.
By becoming a Member of WorldSkills, Zambia aims to overcome these challenges and address the recent shortcomings in educational support, which have led to failure to adequately provide skills to over 20,000 youths who exit from Zambia's school system every year.
At WorldSkills, we are excited to assist Zambia in the promotion of skills excellence to local youth and connect them with those that can provide expertise on successful skills training systems.
The 72nd Member of WorldSkills is Egypt
Officially known as the Arab Republic of Egypt, the country is the most populous country in the Arab world, with over 86 million people. Egypt is located in North Africa and is over 1 million square kilometers, 90% of which consists of desert.
The Giza Necropolis is located just outside of the capital, Cairo, and is a popular destination among tourists and archaeologists, as it is home to The Great Sphinx and the Great Pyramids that were constructed by its ancient civilization.
Egypt has become a Member of WorldSkills because they want their youth to be involved with opportunities that will foster innovation and competency, so they are qualified to become owners and employees of competitive economy enterprises. The long term benefits to the country as a whole include a better economy and social wellbeing.
We look forward to working with WorldSkills Egypt and their contribution and support of the global promotion of skills.