Welcome to the new Champions Trust!
WorldSkills is excited to announce the 2019-2021 Champions Trust representatives.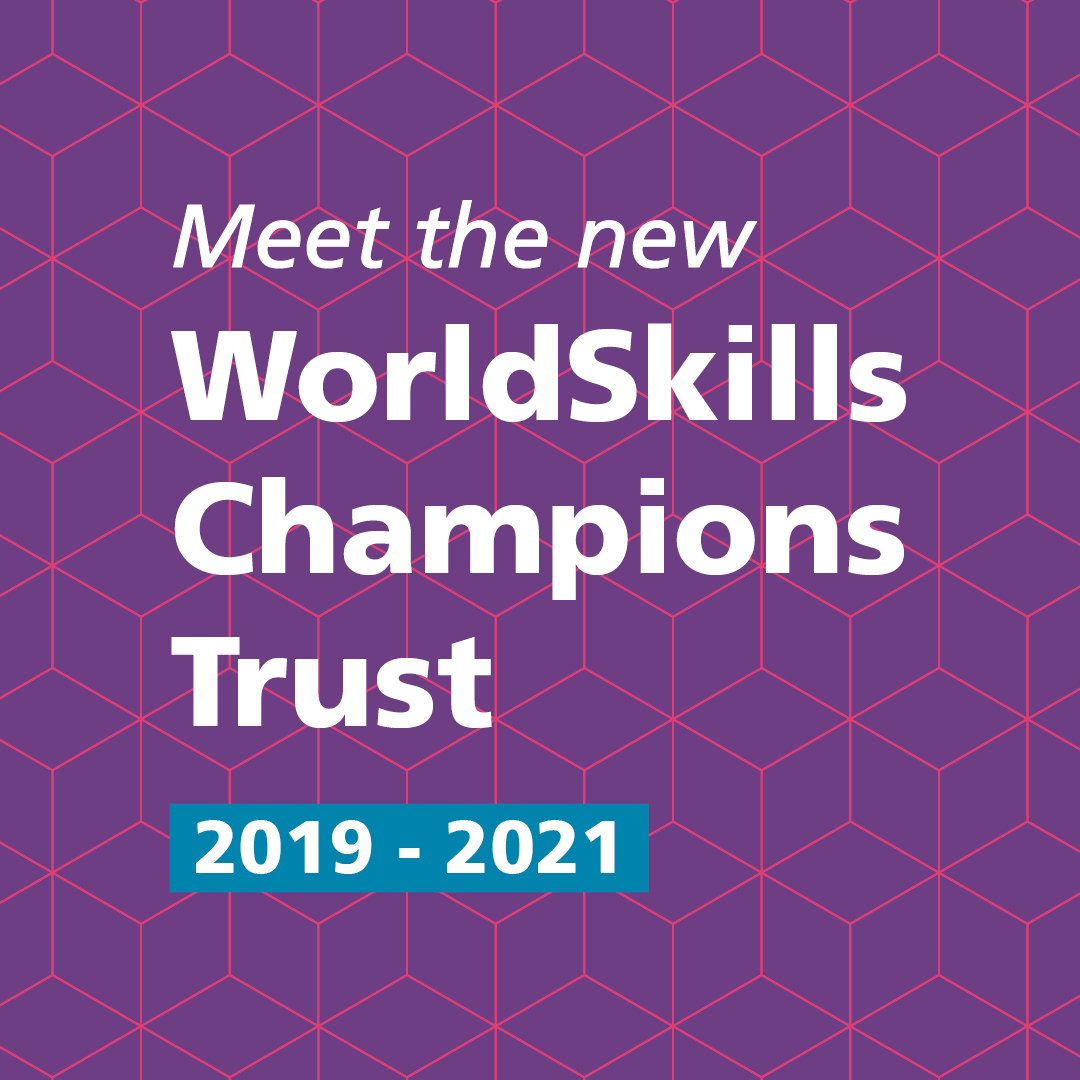 Joining Amelia Addis (New Zealand), Jacqueline Tanzer (Austria), and Pearl So (Hong Kong, China) are eight new representatives who are eager to share their stories, deepen their connection to the WorldSkills movement, and continue to demonstrate to the world that skills build self-esteem, create opportunities, and are the building blocks of our world.
The new representatives appointed to the WorldSkills Champions Trust are:
Leo Rodrigues, Brazil, competed at WorldSkills São Paulo 2015 in Jewellery
Shae White, Barbados, competed at WorldSkills Kazan 2019 in Cooking
Dan McCabe, United Kingdom, competed at WorldSkills Abu Dhabi 2017 in 3D Digital Game Art
Daniel Christophersen, Germany, competed at WorldSkills São Paulo 2015 in Web Design
Yousra Assali, Morocco, competed at WorldSkills Kazan 2019 in Electronics
Euphrasia Mulenga, Zambia, competed at WorldSkills Abu Dhabi 2017 in Aircraft Maintenance
Lee Hee Dong, Korea, competed at WorldSkills São Paulo 2015 in CNC Milling
Ivy Chen, China, competed at WorldSkills Abu Dhabi 2017 in Restaurant Service
We are excited to welcome new Members and skills to the Trust. This is the first time for a Champion from Barbados, Germany, Morocco, Zambia, Korea, and China to be selected to serve on the Champions Trust. It is also a first time for Jewellery, 3D Digital Game Art, Electronics, and CNC Milling to be represented as skills on the Trust.
At WorldSkills young people are the beneficiaries of our work, the heroes of our stories, and a critical audience to inspire. The increased requests for former and current Champions Trust representatives to speak at TVET events around the world demonstrates that WorldSkills Champions serve as an authentic voice of youth in the global skills debate.
Over the next two years, this team will work together to connect with Champions, serve as ambassadors for WorldSkills, and increase the profile of the Champions Trust within the WorldSkills movement. Following their intensive training camp in early 2020, you can follow their activities on our social media accounts.
The WorldSkills Champions Trust is a volunteer group of past Competitors who are the voice of young people in the WorldSkills movement. The initiative was developed by Champions for Champions at the WorldSkills Champions Forum 2014 in Lucerne, Switzerland. Their idea was to establish an advisory group to work closely throughout the year with WorldSkills.
This group works to raise levels of engagement among WorldSkills Champions and promote active involvement in WorldSkills projects, initiatives, and activities. Recruitment for the next Champions Trust will begin in two years to coincide with the hosting of WorldSkills Shanghai 2021.
For more information visit https://worldskills.org/what/champions-trust/.