Want to be a part of the Competition? Be a guest at Restaurant Service!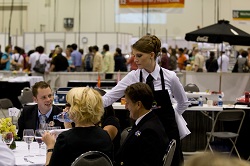 By Michelle Bussey, WorldSkills International
Have you always wondered what it would be like to sitting in a competition area and have all the visitors watching you? Well now is your chance! We have limited tables left at the Restaurant Service competition for you to be a guest and be wined and dined for lunch. With Competitors from 24 countries/regions showing their skills in three different types of dining, we are still seeking eager guests to help complete their competition experience.
The different dining options available on Thursday, 6 October - Saturday, 8 October are:
Casual Dining - bistro cafe style dining servicing sandwiches, cakes, cheese platters, salads, and alcoholic and non-alcoholic drinks. Guests will have the option to choose from a limited menu. Guests can select from a table of 3 or a table of 4.
Bar Service and Banquet Dining - this includes champagne in the bar area with canapés, followed by a 3 course set menu with coffee and alcoholic beverages. Guests will be sat at tables of 8.
Fine Dining - This is formal dining with a 4 course set menu with alcoholic beverages. The service includes the waiter preparing all the dishes at the table by flambé, carving or assembling, appropriate for VIPs. For this formal dining experiencce guests will enjoy an intimate table of 4. (please note, most of the Fine Dining tables are already booked).
Due to the guests being a crucial part of the competition there are guests regulations that must be noted. These regulations are to ensure that all the Competitors have a fair and equal competition.
Guest regulations:
Guests must be at the Restaurant Service area 10 minutes prior to scheduled seating time.
If guests are late (maximum 5 minutes from allocated time) their table will not be guaranteed (so that Competitors are not disadvantaged, the tables will be given to standby guests).
Once seated – guests must accept all food and beverage that is offered, as Competitors must be marked on all skill areas.
Dietary requests cannot be accepted, as menu items must be the same for all Competitors.
No mobile phones, videos or cameras are permitted to be used.
Guests cannot leave the area until the meal service is completed unless approved by Experts in the area (again this is so that no Competitor is disadvantaged with service).
Guests will not seat at the tables where the Competitor is from the same country as the guests.
Guest are invited as guests of WorldSkills, they are not to judge the Competitor or interfere with the Competitor in their work or cause disruption to their work or make comments to judges about any of the Competitors.
Guest must be over 18years of age
If you are interested in being a guest at Restaurant Service, please register in advance by emailing Michelle Bussey (
michelle.bussey@worldskills.org
) with your preference of date and style of dining as well as the numbers of guests.