Volunteer for WorldSkills London 2011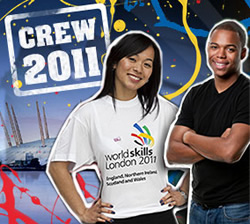 By Sally Eley, WorldSkills London 2011
As WorldSkills London 2011 approaches, sign up for a once in a lifetime chance to be part of the UK's biggest ever global skills event!
With just over 4 months to go before London hosts the UK's biggest ever showcase for vocational skills, opportunities for those living and working in and around London are mounting.
Taking place at ExCeL London from 5-8 October, WorldSkills London 2011 will see almost 1000 young people from across the globe compete for Gold, Silver and Bronze medals in skills as diverse as hairdressing and hospitality to floristry and graphic design.
Volunteers are currently being recruited and those involved can expect to gain valuable experience and meet talented people from across the world. Anyone over 16 based in and around London during September and October can apply for a volunteering role, offering a whole host of benefits.
Executive Director of WorldSkills London 2011 Aidan Jones explains:
"WorldSkills London 2011 offers an amazing experience for our volunteers who will be the public face of the world's biggest skills event. By volunteering to take part in the event, you could be involved in greeting Competitors at airports, escorting special guests or helping manage the media surrounding the Competition. In return, you'll get experience in customer service, media relations and professional event organisation, developing skills that could lead to a promising future career. It will also be a chance to meet new people and be inspired by top talent from around the world."
Open to the public, the Competition will attract up to 150,000 people, who will be able to Have a Go at one of the skills on display and view Showcase performances from some of the UK's top educational organisations, as well as seeing the Competitors in action.
The WorldSkills London 2011 volunteer programme has been awarded the Inspire Mark (the badge of the London 2012 Inspire Programme) and like the 2012 Olympic Games, the success of WorldSkills London 2011 will be dependent on volunteers lending their support.
To be eligible, you need to have been 16 or over on 1 January 2011and live within daily travelling distance from London. You must be available for a minimum of five shifts during September and October 2011. The Competition itself takes place between 5-8 October at ExCeL London and the Opening and Closing Ceremonies at the O2 Arena on 4 and 9 October, you'll need to attend training and induction during the preparations.
WorldSkills London 2011 is jointly funded by Government and Industry. Sponsors include City & Guilds, Cisco Honda, Geberit, Learndirect, Lincoln Electric, Mori Seiki, HSBC, Mitutoyo and Nova Verta.
For further information on WorldSkills London 2011 and how you can apply to become a volunteer go to www.worldskillslondon2011.com