Virtual 3D Learning project makes debut at The Skills Show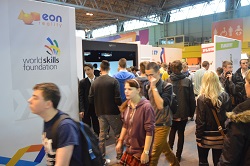 Building on our pilot Virtual Reality VET presentation at WorldSkills Leipzig 2013, WorldSkills Foundation and virtual reality technology provider EON Reality collaborated once again to present an 'Experience Virtual 3D Learning' showcase at The Skills Show in Birmingham, UK last month.
A central 'Icube' visitor space presented four bitesize virtual immersive experiences for Plumbing, Floristry, Aeronautical Engineering, and Cabinetmaking & Joinery: the results of a design workshop for WorldSkills UK Champions, Experts and Sponsors hosted by EON Reality in Manchester only 6 weeks before.
Also on show was the more expansive Virtual Floristry application developed during the Foundation's inaugural Innovation Lab at ITE Singapore earlier this year.
These immersive, interactive learning applications were complemented by a series of smaller Augmented Reality displays located at the respective competition areas. Each of these apps focussed on a single aspect of the competition test project, eg. allowing the user to explore a finished cabinet, to view all of its component parts, or inspect individual flower varieties in a bouquet design. These apps are free to download and explore here: http://www.worldskillsfoundation.org/skills-show-2013/
Alongside hundreds of school children, students, apprentices and teachers who stopped by to experience the Virtual 3D Learning showcase, other high-profile personalities were spotted trying the applications out including WorldSkills President Simon Bartley and Skills Show patron Theo Paphitis.
In this video – http://youtu.be/1vYHSoV6IQs – guests explain the impact of the project at this year's event, while a taste of some of the immersive applications can be seen here: http://youtu.be/hRe-rrcJgHg
Plans for the project now include roll-out of other 3D Teaching software and libraries to VET Providers and Colleges across the UK, plus further workshops for other WorldSkills Members to design and develop visitor experience content for the next EuroSkills Competition to be held in Lille, France in Oct 2014. The Virtual 3D experience will also join The Skills Show's upcoming Careers Aspiration event in Manchester on 21 Jan.
You can follow more from the Virtual 3D Learning project on the WSF website and Facebook page. Are you interested in developing further interactive training content for the project? Please send suggestions and feedback to projects@worldskillsfoundation.org