U.S. Students to Compete in International Skills Competition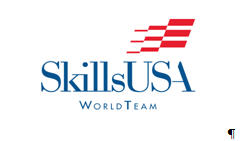 Press release, Leesburg, Va., April 9, 2009
Sixteen students from the United States will travel to Calgary, Alberta, Canada, to compete in the prestigious WorldSkills Competition to compete against more than 1,000 young people from 51 countries in occupational trades.
The 40th international event will be held September 1-7, 2009. The United States team, called "WorldTeam," will compete before the public in contests that are run and judged by industry experts using demanding international standards. Considered "the best of the best," the contestants will compete for four days in 45 occupational skill areas from economic sectors including manufacturing, information technology, transportation, construction and services. The students will be accompanied by their teachers, trainers and industry technical committee experts.
The United States' WorldTeam will be competing in the following occupational areas: Autobody Repair, Automobile Technology, Cabinetmaking, Car Painting, CNC Milling, CNC Turning, Cooking, Hairdressing, Industrial Electronics, IT/PC Networking, Mechatronics (two-person team), Plumbing, Printing, Refrigeration and Welding. The students earned the right to be a member of WorldTeam by winning local, district and national contests under the SkillsUSA program. Competitors must be under the age of 23.
"In a world that is justly concerned about the current and future shortages of skilled workers, here is an international competition that highlights the necessity of nations to develop their skilled work force," said Tim Lawrence, executive director of SkillsUSA.
WorldSkills Competition member countries include Japan, Germany, Saudi Arabia, Australia, and Brazil, among others. Over its 55-year history, WorldSkills International has come to symbolize the pinnacle of excellence in technical training. This year, in Calgary, more than 1,000 competitors will test their skills. Five thousand international experts, delegates and judges from around the world and 3,000 volunteers will attend. A total of 150,000 spectators will attend the competition at Stampede Park situated on 193 acres with 800,000 square feet of competition space. For more information about the competition, go to www.worldskills.org.
Organizations supporting United States' participation in the WorldSkills Competition (both financial and in-kind) include: American Honda Motor Co., Inc., American Welding Society, Automotive Service Excellence (ASE), Automotive Youth Educational Systems, Center for Applied Technology High School, Chrysler, LLC, Cisco Systems Inc., Culinary Institute of America, Ferris State University, FESTO Corp., General Motors Corp., Graphic Arts Education and Research Foundation, Haas Automation Inc., Hunter Engineering, Joan Dalianis Foundation Inc., Kraftsman Auto Body Inc., Lincoln Electric Co., Lowe's Companies Inc., Louisiana SkillsUSA, Massachusetts SkillsUSA, Miller Electric Mfg., National Auto Service Technical Committee, New Jersey SkillsUSA, Pennsylvania SkillsUSA, Pittsburg State University, Pivot Point International, Raytheon, Refrigeration Service Engineers Society, Romeo Engineering and Technology Center, Snap-on Tools Inc., Society of Collision Repair Specialists, Stanley Community College, Stevens College of Technology, Toyota Motor Sales U.S.A. Inc., Welding Education and Consulting, United Association of Journeymen and Apprentices of the Plumbing and Pipefitting Industry, and Warren Tech.
The United States student competitors are all affiliated with SkillsUSA – the organization that represents the United States in the WorldSkills Competition. Unlike other countries, the U.S. government does not sponsor the competitors' training or travel costs and a competitor and competition must have financial support from donors to go forward.
SkillsUSA is a partnership of students, teachers and industry working together to ensure America has a skilled work force. The organization helps students excel by augmenting their technical education with training in leadership, teamworking skills and in citizenship and character development. SkillsUSA serves more than 300,000 students and instructors annually. The organization has over 16,500 teachers and school administrators who serve as professional SkillsUSA members and instructors. More than 1,100 businesses, industry and labor sponsors actively support SkillsUSA at the national level through financial aid, in-kind contributions, and involvement of their people in SkillsUSA activities. Many more work directly with state associations and local chapters. For more information about SkillsUSA and WorldTeam go to skillsusa.org.