Update from the Sanitation Studio Project in Nepal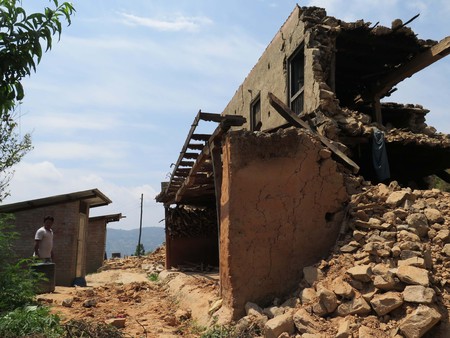 The Sanitation Studio in Nepal is one of three similar projects facilitated by the WorldSkills Foundation (WSF) in collaboration with Healthabitat (HH) of Australia. The Bhattendanda area of Nepal, where the ongoing Sanitation Studio programme supported by WSF is hosted, was seriously affected by the two recent Nepal earthquakes. Healthabitat Director Paul Pholeros has returned there to support local teams, and has advised that the teams noted some of the most severe destruction seen in their entire trip, which had already included some of the hardest-hit areas of the country.
All staff at the Jalapadevi school, which is the site of the current sanitation works, lost their homes. Six of the 565 children who attend the school lost their lives in this unfortunate event. 
All toilet and sanitation facilities in the surrounding area – built by representatives sponsored by WSF over the past two years – have survived the impact and are, in Paul's words, "quite literally saving lives in the middle of a disaster zone." He also reports that it is incredible to see that the local construction team from the HH-WSF Sanitation Studio programme are now leading the emergency shelter works with such confidence and commitment.
Local community leaders believe the programme is now more important than ever, particularly because the completed school toilets now need to serve the wider community until other housing can be re-built. HH has assured the school that the original project will continue when local staff are able to return to work, and has contributed money for basic supplies in the short term to both school staff and families of the children who died.
Rotary Australia has been partnering with HH and raising funds to help Nepal. In Jalapadevi there is a proposal to spend some portion of funds on temporary classrooms to allow children to return to school while the main building is assessed for structural adequacy, and eventually repaired. As the wet season approaches, ways for current Sanitation Studio project resources to better assist relief efforts are being assessed. More updates will be given as things develop.