Tribute to a great Expert - Steve Hornery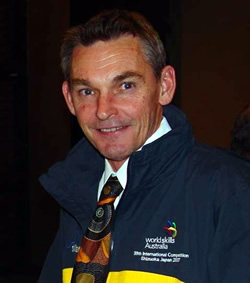 By WorldSkills International
Steve Hornery was a very special person in the WorldSkills International community who earned enormous respect around the world for his involvement, development and leadership of the Bricklaying competition from 1995-2003.
Steve's successor as an international expert, Troy Everett, posted the sad news about Steve's passing (Steve lost his fight with cancer) on the Bricklayers discussion forum and it was amazing to read the thoughts and recognition that people all over the world had for Steve as the responses were posted. He has made a very positive impact for a cause he was so passionate about. Here are just a few excerpts from the discussion forum where Steve's colleagues and friends paid homage to him:
"I sense that he was a very special and generous man with very high standards. I will miss his passion and friendship."
"I was extremely grateful for his words of advice and encouragement as a new Expert and I appreciated our many conversations about WorldSkills. His enthusiasm and passion for all skills competitions as an ambassador will be greatly missed by all at WorldSkills and his loss will be deeply felt within your team."

"He was once not only an excellent Chief Expert but also a good co-worker. I've learned many things about skills competitions and how to treat other people from him."

"I was struck with his energy and passion for whatever he did but especially for the bricklaying trade. Steve was indeed a great ambassador for WorldSkills and I will personally miss his camaraderie and wicked sense of humour."

All of the WorldSkills family will remember him for his outstanding contributions to the success of WorldSkills and for his professionalism, his friendship and selfless spirit.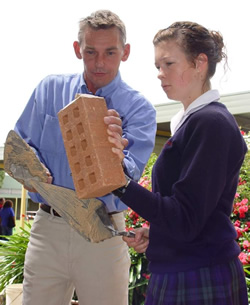 By Troy Everett, Australia Bricklaying Expert
Steve Hornery was a committed Expert and Chief Expert of the bricklaying category for over 12 years. During this time, he dedicated much of his effort to lifting the professionalism of the Bricklaying competitions he was involved with. There is no doubt Steve possessed outstanding knowledge about the skill of bricklaying and it strangely feels like a library has burnt down, but more than this he will be remembered for his friendship, fairness and integrity. At a level where there is much emphasis and effort that goes into striving for medals, he helped many realise we can compete hard but still maintain our decency and fairness, build rapports and grow great friendships.
By WorldSkills Australia
Steve was a long serving member of the WorldSkills Australia(WSA) family – beginning his involvement in 1982 as a Regional Committee member at the first WSA regional competitions. Over the next 28 years, he held a variety of roles including those of regional and national competition judge, category convenor, International Expert and Chief Expert and TAFE NSW WorldSkills Manager.
Steve was an exceptional, caring, positive and hard working man who had an impact on many people as evidenced by the many messages we have received from around Australia and indeed from around the world. He continually volunteered his time to inspire young Australians through his efforts in promoting Vocational Education and Training – either through the competition process, skills development camps, Try'aTrade/Taste of TAFE events or the many other events that he was involved in.
He will be sadly missed by all of us who have had the privilege of knowing him and who have been touched by his dedication, energy, enthusiasm and love of life.