Tool Blacks on Road to Calgary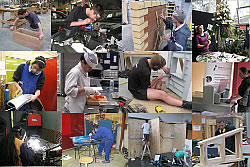 By WorldSkills New Zealand
WorldSkills NZ has announced the Tool Black team which will compete at the 40th WorldSkills Competition in Calgary, Canada in September 2009.
The team has been chosen from the finalists who took part in the WorldSkills NZ National Finals which were held at the Wellington Institute of Technology in September this year.
The 2009 Tool Blacks, who are all under the age of 22, will be competing in 17 skill categories from the Automotive, Engineering, Construction, Hospitality, and Service Industries. The competitors, who come from all over New Zealand now have 10 months to hone their skills to international standards and they will all be putting considerable time and effort into training. In 2007 the Tool Blacks came home from the 39th WorldSkills Competition in Japan with a Silver medal, two Bronze medals and five Medals of Excellence, a result which put NZ in 14th place out of 48 countries/regions. WorldSkills NZ is confident they have the calibre of competitor for the 2009 competitions to at least match these achievements.
In addition to the competitors, the team will also include a Technical Delegate, a Team Leader and Experts/Judges for each skill category making a team size of about 40 members. WorldSkills NZ is a not-for-profit trust which is reliant on sponsorship to both run the New Zealand competitions and also send the team to the WorldSkills Competitions, so the competitors and Experts/Judges are all fundraising and seeking sponsors.
"This is an opportunity for New Zealand's best young trades people to compete against the best from 50 other countries/regions, and to benchmark New Zealand's trade training standards," says Mr Peter Spencer, CEO, WorldSkills NZ. "This is a wonderful opportunity for our young achievers to network among the world's elite young skilled people."
For more information please visit: www.worldskills.org.nz.