WorldSkills Conference Talks - online seminar series for the global VET community
In these testing times, we are stronger together.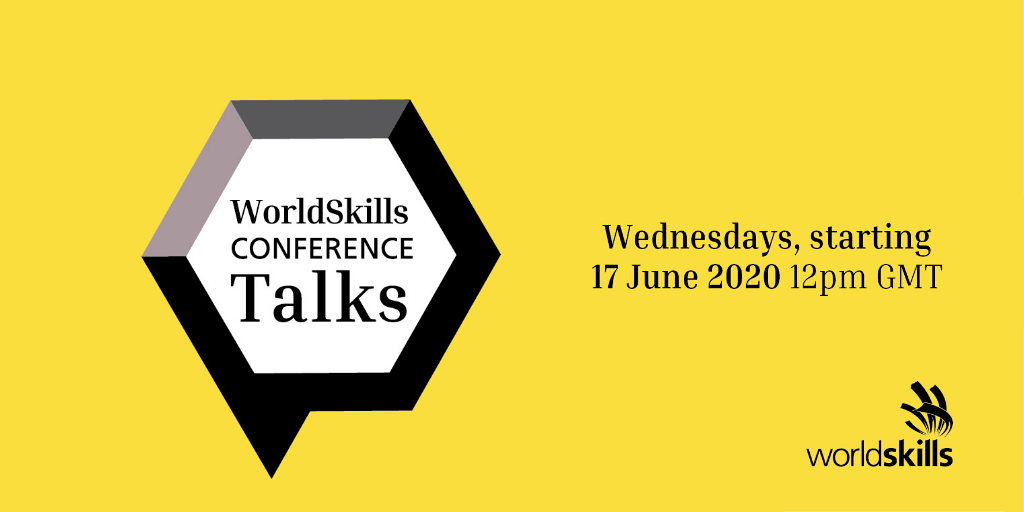 That's why WorldSkills International is reaching out with a new series of online seminars designed to engage and inform anyone with a passion for skills and vocation training.
Starting 17 June, and running through 22 July, the WorldSkills Conference Talks will confront the problems faced by our global movement as a result of COVID-19, and seek better solutions for the way forward.
In five sessions, to be held live on the WorldSkills website and Facebook, leading figures from the world of vocational training will join those from the front line of the current global crisis with the message not just that Skills Save Lives, but that they can also save livelihoods. Save the date of Wednesday 12pm GMT in your calendar for each session.
Speakers will include leading figures from WorldSkills International and our Member organizations, representatives from WorldSkills partners and some of the biggest names in industry, and some of the young people who are at the heart of our mission and the WorldSkills Champions Trust.
Topics will range from the issues created by coronavirus for young people, the challenges of assessment and competitions in a virtual landscape, and a celebration of World Youth Skills Day on 15 July.
Join us 12pm GMT:
17 June WorldSkills: keeping moving during a global pandemic
1 July Can skills competitions, training, and assessments be effective online?
8 July Ensuring that skills reflect societies: Diversity and Inclusion in competitions and beyond
15 July Youth, skills, and resilience: the view from WorldSkills Champions
22 July Knowing our past, preparing for our future: lessons from the WorldSkills Museum Collection
Speakers will also address the importance of diversity and inclusion in skills competitions, and how support can be given for the mental wellbeing of our young people, often now working and studying in isolation,.
And in anticipation of better times, there will also be an exclusive glimpse of the new WorldSkills Museum of Skills, and its fascinating collection and story, due to open in time for WorldSkills Shanghai 2021.
The first session on 17 June 12pm GMT is focused on WorldSkills: keeping moving during a global pandemic. For full details, dates and timings of all the WorldSkills Conference Talks, visit https://worldskillsconference.com, and stay up to date on our social media channels.