Technical Working Group, June 2011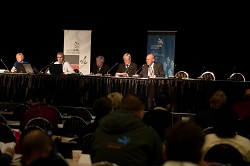 By Jane Stokie, Technical Director, WSI

Technical Delegates from four Member country/regions joined with the Competition Management Team and WorldSkills London 2011 at the Technical Working Group in June to discuss items related to executing a successful Competition in October.
The main objectives of the meeting included:
Clarify details around all outstanding issues from Competition Preparation Week.
Finalise preparations and details for all meetings that will occur in conjunction with the Competition.
Discuss any open issues for WorldSkills London 2011.
WorldSkills London 2011 Technical Director, Peter Davies, provided an insightful update into the technical preparations for the Competition. He particularly focussed on the logistics around Competitor toolboxes once they arrived in London, how the toolboxes would be warehoused and moved to ExCeL London, and the very important Health and Safety requirement of Portable Appliance Testing (PAT) of all electrical equipment brought by Competitors. He also updated Delegates on the status of the Infrastructure Lists, workshop layouts, IT network and Workshop Supervisors. While there continues to be challenges Peter was quick to confirm that the WorldSkills London 2011 team are on track.
With the successful implementation of the Sustainability Award at WSC2009 it was recommended that the award be made at the Closing Ceremony along with the implementation of a perpetual shield. To keep the focus on the sustainability of the Competition into the future an Expert with Special Responsibility (ESR) has been appointed in each skill. WorldSkills International will facilitate discussion with the Experts through this ESR to empower them to think beyond the structure in which skills have been conducted in the past. The main objective is the sustainability of the Competition as part of the 2020 Vision while maintaining emphasis on the skill competencies.
Training sessions for various groups of accredited personnel such as new Experts, Interpreters, Skill Management Teams and Experts with Special Responsibilities were identified. Delegates brainstormed the required content of these sessions and finalised who would present each sessions. The Technical Director, Jane Stokie, is now coordinating the delivery.
Overall, the Technical Working Group provided an opportunity to finalise a raft of outstanding issues with all Delegates declaring that the forthcoming Competition would be the best ever.