From tears to screams, WorldSkills Americas 2012 is over!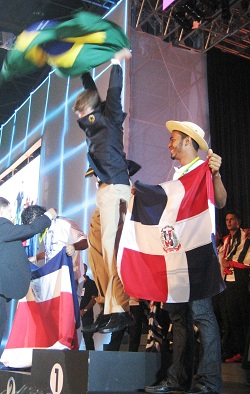 By Michelle Bussey, WorldSkills International
What an energy-packed Closing Ceremony! WorldSkills Americas 2012 is officially finished and all the Competitors are en route back to their homes. The social networks are busy reporting from every corner of the globe with congratulations, well wishes and plenty of photos and videos from every perspective. It is actually quite strange and eerily quiet in Säo Paulo today without the sound of drills, machines, keyboards, sewing machines, sanders, saws, car horns and thousands of visitors eagerly chatting. In order to stay inside the WorldSkills bubble, let's reflect on last night.
With about five thousand screaming people in attendance at the Closing Ceremony, it was hard to hear yourself think. You could literally feel the music pounding through your body as soon as you got near the venue. Few people stayed in their seats and the 'wave' was a common occurrence as they waited for the Ceremony to begin. Finally the emcees officially opened the Ceremony and started calling winning Competitors on stage by skill sector without announcing which medal they had won. As the Competitors waited for their skill to be called you could read every emotion possible on their faces. There were tears of gratitude, stone faced anxiety, faces verging on nausea, enthusiast screaming and lots of praying.
In between each skill sector the audience was treated to short gymnastic entertainment that kept the energy levels high. Best of nation were announced for WorldSkills Americas 2012, which ensured every country had a medallist to celebrate. Kieron Kohlmann from Brazil was named the Best of the Best for WorldSkills Americas 2012.
WorldSkills ASEAN 2012 and The Skills Show in the United Kingdom are also finished now but fear not, there are lots more WorldSkills activities happening this month, starting with the very first WorldSkills Russia national skills competition 20-21 November and quickly followed by WorldSkills France national skills competition taking place 22-24 November 2012. Good luck to all Competitors, organizers, volunteers and supporters, we'll be eagerly awaiting news and highlights.