Team Palestine meets President Mahmoud Abbas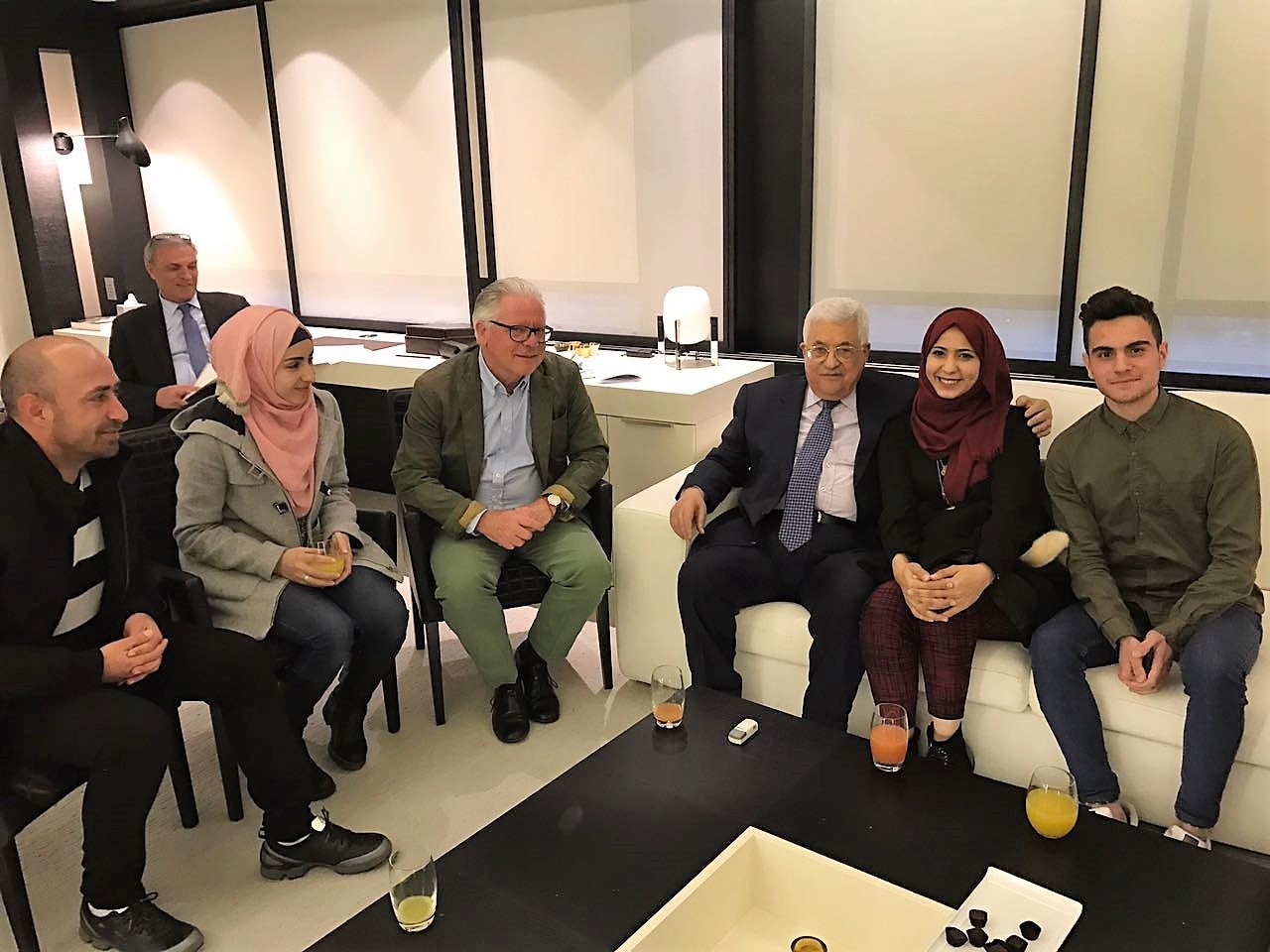 Members of one of the teams set to showcase their vocational talents at WorldSkills Abu Dhabi 2017 have been boosted by inspirational backing from the very highest level – their president.
The WorldSkills Palestine team recently travelled to Belgium to undergo a preparatory exercise ahead of the world's largest vocational skills competition, which will take place in the capital of the United Arab Emirates in October.
Their trip to Belgium took a surprise twist when they discovered that Mahmoud Abbas (also known as Abu Mazen), the President of the State of Palestine and Palestinian National Authority, was in Brussels at the same time as their stay in the Belgian city – and wanted to meet them.
Mr Abbas invited the team to meet to discuss their participation in WorldSkills Abu Dhabi 2017 and offered them his support and praise, as well as providing each of them with a signed picture – receiving a WorldSkills Palestine polo shirt in return.
"Abu Mazen was staying in Brussels during a trade mission to Europe, and while we were in Belgium, we were asked to contact the Palestinian Embassy as he wanted to invite us for a private visit," explained Michael Buechele, Technical Delegate for WorldSkills Palestine. "At first, we thought we were dreaming - this was like being at the Olympics for us." 
"Abu Mazen warmly welcomed the team, asked us many questions about our mission and about WorldSkills in general, and promised to give us any help we might need. He explained that he appreciated our contribution to the development of technical and vocational education training in Palestine and the impact we are making on the young people who are its future."
"He took a great personal interest in what the young members of our team had to say and was heartfelt in his support, wishing our candidates luck and success in Abu Dhabi. Sometimes things go far beyond your dreams, and this is what happened to us."
Team leader Alaa Doudin described the presidential invitation as "a nice meeting and a great discussion", with team member Ibrahim Qawasme saying,  "His attention has paved the way for our dreams". WorldSkills Palestine Graphic Design Shadi Rajabi said the experience will give them even greater impetus to succeed at WorldSkills Abu Dhabi 2017 adding. "Meeting the President – who demonstrated his personal interest in the energy and creativity of youth and how it represents hope - has increased our morale and enthusiasm, and has had a great impact on what we are doing."
The team's visit to Brussels – where they participated in Startech, Belgium's national skills competition - was supported by WorldSkills Belgium and the Belgian Development Agency. Buechele said, "We want to thank them, as well as the Palestinian Embassy in Brussels, and, of course, Abu Mazen."
Team Palestine will be among the over 1,300 competitors from the 77 Member countries and regions of WorldSkills International that will compete in 51 skill competitions – from Aircraft Maintenance and Robotics to Fashion Technology and Web Design.