Step by step towards a smaller footprint
By WorldSkills International
As WorldSkills International gets bigger and Competitions grow in size, we have to address the issue of sustainability. Over the last ten years WorldSkills International membership has increased by 53 percent. That is why the Sustainability Task Force was set up at the General Assembly in Shizuoka 2007 to protect the environment, reduce costs and space required, reduce the environmental impact on the community, facilitate future growth, and develop best practices transferable to other skills.
One of the initiatives developed by the Sustainability Task Force in partnership with WorldSkills Calgary 2009 was the WorldSkills Sustainability Award. At WorldSkills Calgary 2009, skills were invited to make submissions for the inaugural Award. More than 60 percent of skills contributed with initiatives on how they could make their competition more sustainable before, during and after WorldSkills Calgary 2009. The program aims to lead innovation and practice towards sustainability by various methods, including:
Setting standards through the review of Technical Descriptions
Using the 4 Rs (reduce, reuse, recycle, regenerate) in the development of Test Projects Sharing and adopting best practices
The award winners were selected by the Sustainability Award Evaluation Panel consisting of Official and Technical Delegates who developed a set of criteria and a procedure for the award process. The criteria included:
Facilitation of future growth
Minimising impact on the environment
Minimising impact on the hosting community
Best practice transferable to other skill areas
Numerous green initiatives were introduced for Calgary and more are being implemented for WorldSkills London 2011.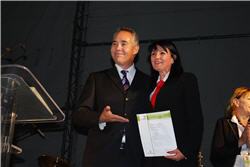 And the winner is...
The inaugural Gold Sustainability Award was won by the Experts from Beauty Therapy for their efforts in considering environmental sustainability in the planning, setup and teardown of the competition site – and in the conduct of their competition. Initiatives developed by Beauty Therapy included:
No pollutants were used
Competitors were issued with small bottles to allow the return of unused product
A limit of 2 towels per Competitor
Rinsing using cold instead of hot water
Implementing a future plan to invite people from aged care facilities to participate as models
Merit Awards
Sustainability Merit awards were won by Graphic Design Technology, Carpentry, Landscape Gardening and Web Design for their contributions.
Well done!
This was a great start to the WorldSkills Sustainability Initiative. Congratulations to all skills who participated – in particular to the winners. Our thanks to WorldSkills Calgary 2009 for their excellent sustainability initiatives at this Competition and their contribution towards future Competitions. We hope to see even greater competition for the award at WorldSkills London 2011.