SkillsUSA 50th Annual National Leadership and Skills Conference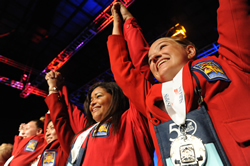 SkillsUSA returned to Kansas City 23-27 June 2014, for its 50th Annual National Leadership and Skills Conference, a showcase of career and technical education students. Quality career and technical education was the centerpiece of the conference. More than 15,000 students, teachers and education leaders participated in the event, as well as representatives from more than 600 national corporations, trade associations, businesses, and labour unions.
The Opening Ceremony, the first official event, built excitement for the coming days and served to officially open the Championships. It featured special guests, motivational speakers, and unique multimedia presentations.
A special highlighted event was the annual SkillsUSA Championships. This two-day Competition showcases more than 6,000 students as they compete in 99 hands-on skill and leadership competitions. SkillsUSA organizes this event, and it is considered the single greatest day of industry volunteerism in America annually at an estimated cost of more than USD35 million. Each SkillsUSA Championships contestant is a state-level gold medallist in their skill.
Reflecting SkillsUSA's status as a student-run organization, nearly 600 student leaders represented their states for three days in a national house of delegates. Other conference events included SkillsUSA University, in which students and teachers gained information about their career areas, networked with industry sponsors, learned new or innovative techniques about occupations, or heard how to create a mentoring program. SkillsUSA TECHSPO, the nation's largest career and technical exposition, stretched throughout the Kansas City Convention Center and onto the surrounding streets with 130 exhibits.
During their time in Kansas City, more than 400 students also had the opportunity to give back by participating in a citywide community service event covering five locations around the city.
The Awards Ceremony for the skill and leadership competitions ended the week, with hundreds of bronze, silver, and gold medallions presented to the best in the nation. Election results for 15 new national student officers were announced, and SkillsUSA's year-long 50th anniversary celebration kicked off with a pyrotechnics display.