#SkillsSustain: Upcycling jeans to save the oceans
Two social entrepreneurs from Spain are creating exclusive pieces with donated denim to reduce pollution.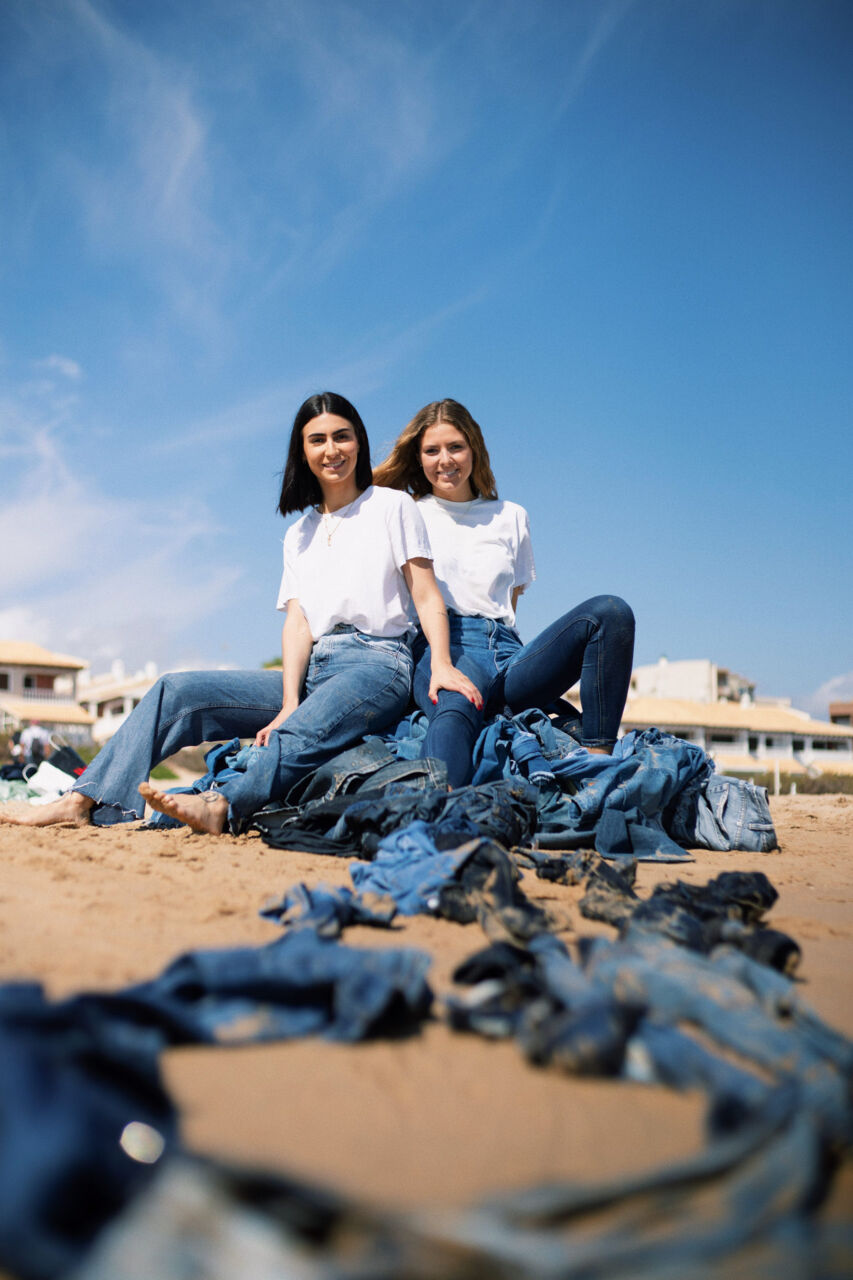 There is more than a long-lasting friendship which unites Ana Barquilla and Blanca García. Born and raised in the coastal town of Alicante in Spain, the young women share a deep love for the sea, and for jeans. When they found out that the world's most popular fashion garment was a heavy polluter, they decided to act.
Washing one pair of jeans can, according to a recent study, release thousands of microfibres, adding significantly to the accumulation of fibres in the oceans. Washing the garments less as well as using second-hand jeans helps reduce this shedding of microfibres.
Ana and Blanca started a campaign to collect denim from people's closets, and it was so successful that they gathered over 4,000 pieces.
"We drove across towns and villages within our region to collect the denim ourselves. People didn't even want anything in exchange, they just wanted us to take them. Initially, we didn't know what to do with them, but that's when we decided to upcycle the denim and create a collection," explains Ana.
And so Genoa Denim was born. The project was a finalists of BeChangeMaker 2021, the social entrepreneurship programme supported by WorldSkills and the HP Foundation.
The pair collaborated with designers from their region to create new pieces.
"We give them the material, and they get paid for their design work," says Ana. "I feel very enthusiastic when designers contact Genoa Denim because they have heard of us and want to collaborate. We like to work with designers that care as much as us about the planet."
Initially, Genoa Denim was conceived as an exclusive brand that would sell unique, limited-edition pieces made from used denim. However, they realized that by producing several pieces from each design, they could make the brand more accessible.
"Each piece will continue being unique and limited because the raw material is donated, even if the design is the same, each piece will be different," says Ana.
The entrepreneurs are now working on improving their website and intensifying the promotion through influencer marketing. Their packaging will be completely reusable, and each customer will receive a thank-you card on seed paper, which can be planted to grow lavender.
Ana believes that the formula for success in setting a sustainable business is perseverance and responsibility.
"Many people are not aware that we can still change things, that we can still have a positive effect against climate change," says Ana.
"It's crucial to have a team that shares your goals and values."
Follow in the footsteps of Genoa Denim and take your social enterprise idea to the next level with support from BeChangeMaker. Apply forBeChangeMaker 2022 before 3 June.