SkillsBelgium - National Competition
By SkillsBelgium
At the national competitions held in March of this year, SkillsBelgium selected 20 candidates from over 500 highly motivated young people who applied to take part, covering 19 different skills.
The young people, who met for the first time at a series of meetings, is now a united team working hard to prepare for the Competition in Calgary. Each young person benefits from the support of a coach who is an expert in his or her profession. With their coaches, the candidates find out more about the test project to be completed in September and practise every day in preparation.
Belgium will be represented in the following skill categories: Automobile Technology, Wall & Floor tiling, Bricklaying, Joinery, Painting and Decorating, Stonemasonry, Roofing, Graphic Design, Printing and Decorating, Cooking, Pastry Cook/confectionery, Industrial Control, CNC Milling, IT Software Applications, Electrical Installations, Mechatronics, Refrigeration, Welding and CNC Turning. The Belgian delegation will number over 70 people in total, including around 10 journalists.
Our young ambassadors representing the technical professions are eager to rise to the challenges awaiting them and have already enjoyed unprecedented media coverage in Belgium. The public television channel RTBF will broadcast 2 special programmes during prime time - when they leave for Calgary and on their return. A tour of the schools of Wallonia and Brussels will then give the young people the opportunity to talk about their impressions and the passion they feel for their professions.
In addition to bringing home medals, the Belgian team will also aim to make the most of WorldSkills Calgary 2009. This event will be packed with extraordinary encounters and discussions, in which gold medals will most certainly be awarded for friendship.
For more information, please visit: www.skillsbelgium.be.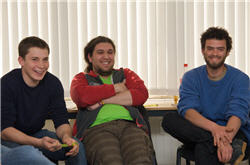 French version

Concours nationale des metiers
Après avoir reçu plus de 500 candidatures de jeunes très motivés, SkillsBelgium a sélectionné 20 candidats dans 19 disciplines lors d'épreuves nationales qui se sont déroulées en mars dernier.
L'équipe, qui a d'abord appris à se connaître au travers de différentes rencontres, est à présent soudée et se prépare activement aux épreuves qui l'attend à Calgary. Chaque jeune bénéficie du soutien d'un coach qui est expert dans leur discipline. Avec celui-ci, le candidat découvre le projet qu'il devra réaliser en septembre et s'entraîne quotidiennement à sa réalisation.
Les disciplines dans lesquelles la Belgique sera présente sont la technologie automobile, le carrelage, la maçonnerie, la menuiserie, la peinture, la taille de pierre, la toiture, les arts graphiques, l'imprimerie, la cuisine, la pâtisserie/confiserie, le contrôle industriel, le fraisage CNC, la gestion des réseaux informatiques, l'installation électrique, la mécatronique, la réfrigération, le soudage et le tournage CNC. Au total, la délégation belge comptera plus de 70 personnes, dont une dizaine de journalistes.
Nos jeunes ambassadeurs des métiers techniques sont impatients de relever le défi qui les attend et bénéficient déjà d'une couverture médiatique sans précédent en Belgique. La chaîne de télévision publique RTBF diffusera lors de leur départ vers Calgary, ainsi qu'à leur retour, 2 émissions exceptionnelles en prime-time. Une tournée dans des écoles de Wallonie et de Bruxelles permettra ensuite aux jeunes de témoigner de leurs impressions et de parler de la passion qu'ils ont pour leur métier.
Outre la volonté de ramener des médailles au pays, l'équipe belge s'est surtout fixée comme objectif de vivre pleinement le Mondial des Métiers : lieu de rencontres et d'échanges extraordinaires où la médaille d'or sera sans aucun doute décernée à l'amitié.