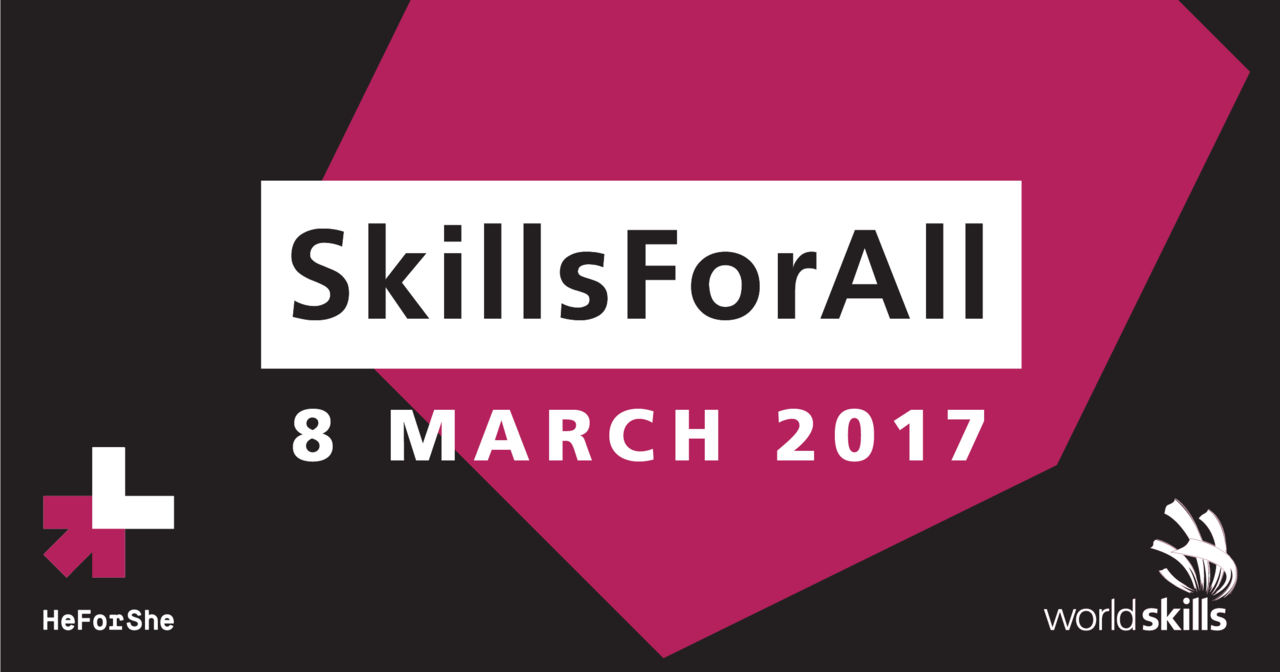 Member organizations of WorldSkills have been voicing their commitment to the equality agenda, throughout International Women's Day.  Forty six Members, from across the globe, have stated their support for the UN Women campaign HeForShe. This follows the endorsement of HeForShe at the WorldSkills General Assembly in Niagara Falls last year.
"One of the challenges, is that there are not enough women in skills, trades and technologies", said the CEO of WorldSkills, David Hoey. "I can assure you that it is one of the best career opportunities. So to all women, please have a look, consider a career, and you will be amazed at the opportunities."
Over the past week WorldSkills has published profiles with some of the most accomplished young women to compete in skills competitions at the international, regional, and national level. All their stories are inspiring in different ways. 
One that particularly caught our imagination was that of Namibian plumber, Albertina Shitalangaho, who quoted from an African proverb:
"If you educate a man, you educate an individual. If you educate a woman, you educate a family".
She like many of our other skilled female professionals highlighted unequal pay, and the 'glass ceiling' that prevents so many women from reaching the top of their chosen professions.
As Albertina points out, "strength is measured in intelligence, experience, and capability." The message of the proverb is that if we know the value of education to men, women should have equal access to it."
That beautifully captures the message from WorldSkills on International Women's Day, as well as every other day of the year.
Young women and young men must have the same opportunities in, and the same access to, vocational education and apprenticeships, wherever they live. When they enter the workforce women should be paid the same amount as their male peers. They should receive the same opportunities for promotion.
Skills have no gender. So join us, and our Members, in fighting to ensure that skills are for all. 
Take the HeForShe pledge, by signing at HeForShe.org, and acknowledge that you are "one of billions… who believe that everyone is born free and equal", and that you "will take action against gender bias, discrimination and violence to bring the benefits of equality to us all."
WorldSkills Member countries and regions that have taken the HeForShe commitment:
Africa: Egypt, Namibia, Zambia
Asia: Armenia, Kingdom of Bahrain, Brunei Darussalam, China, Georgia, Hong Kong China, India, Japan, Korea, Mongolia, Palestine, Singapore, Thailand, Chinese Taipei, Vietnam
Europe: Austria, Belgium, Belarus, Switzerland, Germany, Denmark, Estonia, Finland, France, Hungary, Ireland, Principality of Liechtenstein, Latvia, Netherlands, Norway, Portugal, Romania, Russia, Sweden, UK
North America: Barbados, Canada, Jamaica, Trinidad and Tobago, United States of America 
Oceania: Australia, New Zealand
South America: Colombia