Skill competition tackles water challenges
A constant flow of clean water direct to our homes is something many of us take for granted. But for hundreds of millions it is a daily challenge. Water quality, sanitation, and dwindling supplies that result from urban growth and shrinking aquifers are a daily fact of life in the developing world.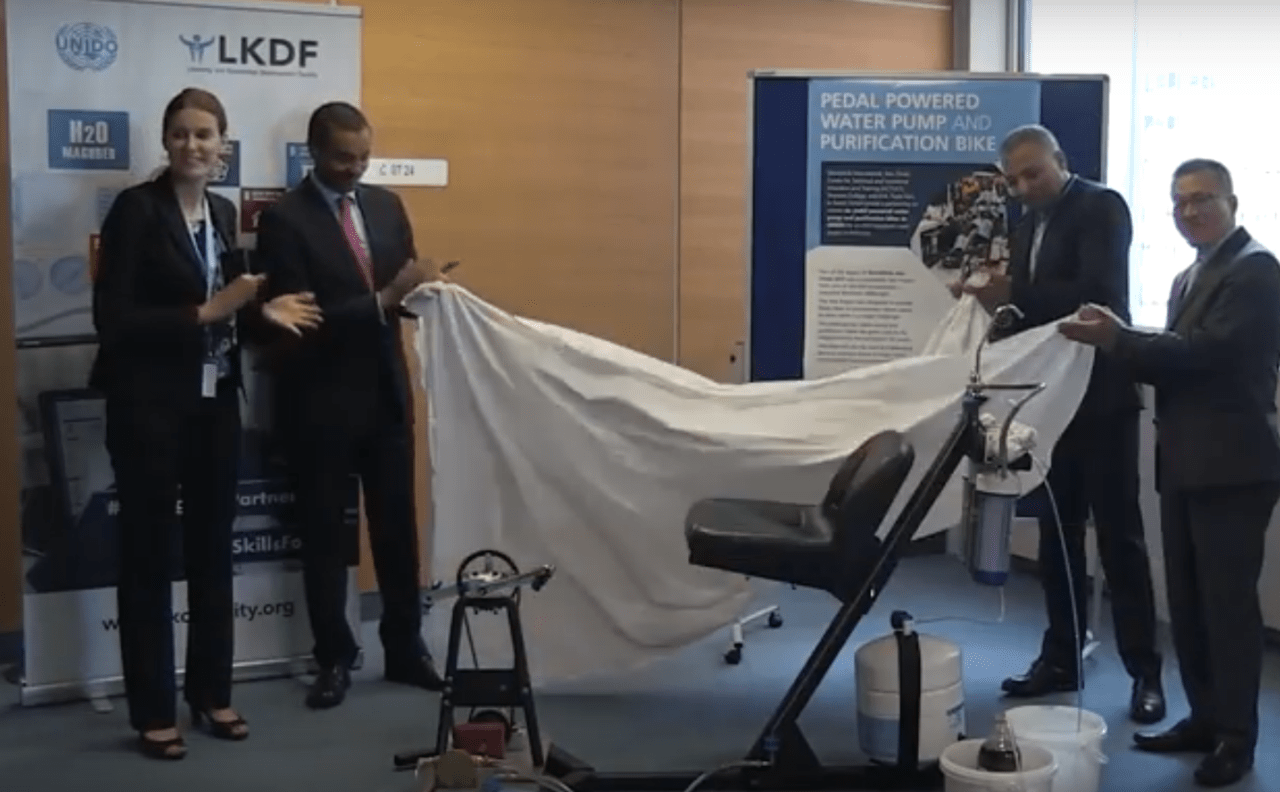 One potential inexpensive and easy solution is a pedal powered filtration system that produces drinking water for communities which rely on sources like rivers and ponds.
Resembling an exercise bike, the pump made its debut at WorldSkills Abu Dhabi 2017, where it was the test project for the Industrial Mechanic Millwright competition. The pump is easy to maintain and can be used in areas where electricity supplies are unreliable or even virtually non-existent. At 80 rpm, the pump can produce six litres of clean water a minute, with an expected output of 100 gallons a day if run continuously.
The prototype was donated to the United Nations Industrial Development Organisation (UNIDO), and the final products that were completed by the Competitors at WorldSkills Abu Dhabi 2017 were sent to UNIDO's Learning and Knowledge Development Facility (LKDF) for their project in Morocco. Exploring the potential of public-private partnerships is one of the objectives of the LKDF, which supported students from three countries, Morocco, Zambia, and Iraq, to take part in a WorldSkills Competition for the first time.
Projects like the pedal powered water filter not only have environmental benefits but also the potential to improve training and vocation skills in the communities they serve.
As part of a partnership that included WorldSkills International, Canada's Sheridan Collage, Abu Dhabi Centre for Technical and Vocational Education and Training (ACTVET), and DHL Trade Fairs & Events, six bikes were produced at the competition.
The prototype has been displayed at the UNIDO headquarters in Vienna, with the others earmarked for H20 Maghreb, a LKDF project based in Morocco and centred on the mostly westerly countries of North Africa.
H20 Magreb aims to improve water management in the region, with public-private partnerships and training young people in the latest developments. The bikes donated to the H20 Magreb project will be used for educational and demonstrational as well as skills promotional purposes at the training centres and local communities.
Giving a meaningful and sustainable life to a Test Project from a mega event like the WorldSkills Competition is very important. The IMM competition has demonstrated the potential positive impact this could bring – a concept that can be applied to other skills when designed well and purposeful.