Sharing water and sanitation initiatives with UNESCO-UNEVOC at IFAT 2014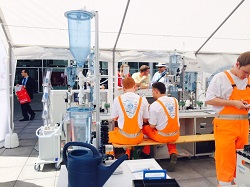 WorldSkills Foundation was invited to share details of current water and sanitation initiatives by UNESCO-UNEVOC during their special session at IFAT 2014 (International Trade for Water) in Munich, Germany on 6 May. The meeting session was an international platform that UNESCO-UNEVOC provides for representative UNEVOC Centres to meet, share knowledge and lessons learned.
The presentation from the Foundation focused on how strategic partnerships and innovative projects play a crucial role in the development of skill training in the water sector. This includes the Sanitation Studio projects with Healthabitat, our Virtual 3D Learning Innovation Lab for Facilities Management with ITE Singapore, and the Water Innovation Challenge event with World Plumbing Council and RMIT University which was held 3-5 June, also at ITE Singapore.
The representative UNEVOC Centres that attended the session were Nigeria, Morocco, Sri Lanka, Costa Rica, and Malawi. Several of the Centres expressed keen interest in WSF Projects and the WorldSkills Competition.
We were also keen to witness the Open German Championships in Wastewater Engineering at IFAT. This competition is supported by the German Association for Water, Wastewater and Waste (DWA), WorldSkills Germany, FESTO, IFAT, and the German Federal Ministry for the Environment, Nature Conservation, Building, and Nuclear Safety. Thirty Competitors took part, all under 22 years of age. Observing this event gave WSF further inspiration for conducting the inaugural Water Innovation Challenge – sharing the same spirit and goal of improving health and quality of life for communities in need, through live design and prototyping of innovative water management solutions.