Russia celebrates WorldSkills at the Kazan Kremlin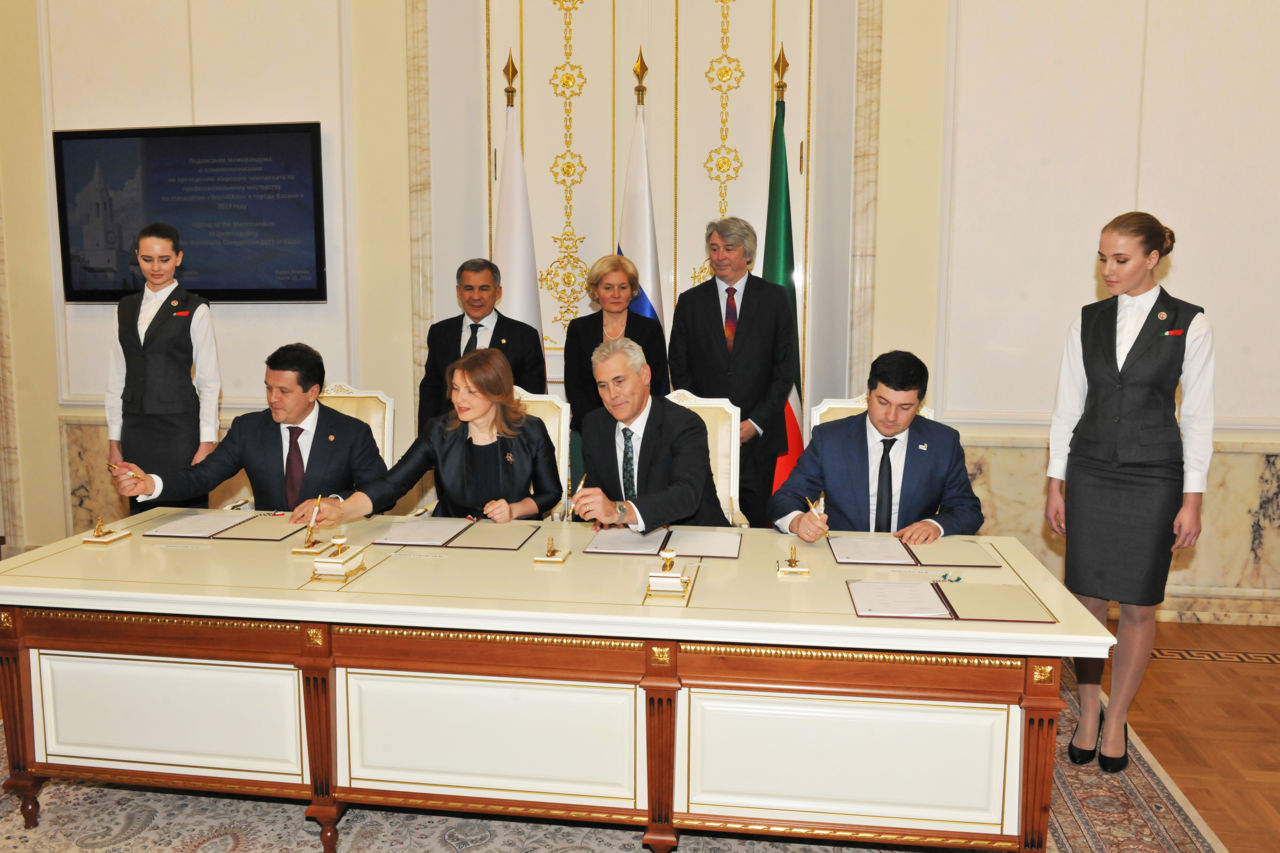 The official signing of the WorldSkills Kazan 2019 Memorandum of Understanding (MOU) was done 10 March 2016 at the Kazan Kremlin, an icon building in Kazan, Russia and a UNESCO World Heritage Site. 
"The signing of the MOU marks the start of an exciting three-and-a-half-year journey that will bring the 45th WorldSkills Competition to Russia for the first time," said David Hoey, CEO WorldSkills International. "Russia recognizes that skills keep the world working, and that hosting WorldSkills Kazan 2019 is a powerful way to drive up skills excellence and achieve strategic reform of VET in Russia. The warm welcome we received in Russia, as well as the keen interest demonstrated from the Russian press today, reflects the commitment Russia has in hosting a world-class Competition."
The MOU was signed by Ilsur Metshin, Mayor of Kazan, Natalya Zolotareva, the WorldSkills Official Delegate from Russia, Robert Urazov, WorldSkills Russia Director General, Rustam Minnikhanov, Tatarstan President, and WorldSkills International representatives Simon Bartley, President, and David Hoey, CEO. The Deputy Prime Minister of the Russian Federation, Olga Golodets, represented the Federal Government in the signing ceremony.
After signing the MOU, a reception was held to commemorate the significant event. It began with a welcome speech from Olga Golodets, Deputy Prime Minister of the Russian Federation, and Rustam Minnikhanov, President of the Republic of Tatarstan. Simon Bartley, President of WorldSkills, thanked the Russian representatives for enthusiastically and whole-heartedly committing to hosting the massive undertaking of the 45th WorldSkills Competition.
The WorldSkills Board of Directors and Secretariat are meeting this week with WorldSkills Russia and Republic of Tatarstan representatives for the foundational planning for WorldSkills Kazan 2019 (22-27 August 2019).