Riding the Wind Best Option for International Competitors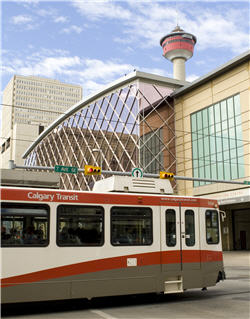 By WorldSkills Calgary 2009 Ltd.
Set to the majestic Rocky Mountains, The City of Calgary boasts a young, energetic metropolitan population where enthusiasm is brewing for WorldSkills Calgary 2009.
A simple but superior transit system is ready to handle international passengers for the 40th WorldSkills Competition this September, according to Theresa Keddy, a spokesperson for Calgary Transit. Keddy encourages the Competitors to "Ride the Wind," a slogan that comes from the C-Train system being entirely wind-powered.
Over 900 Competitors, 3,500 international Delegates, Experts and visitors, and 150,000 students and public will visit WorldSkills Calgary 2009, during the four-days of the Competition (September 2 – 5). The majority will be relying on The City of Calgary C-Train to get to the Competition venue, the Stampede Park.
"It's very simple to use, as every train goes into the downtown core. It's fast, safe and reliable transportation," Keddy said. "Depending on what's going on elsewhere, it's likely that you're going to beat traffic if you use the LRT."
The WorldSkills Competition, which is expected to bring in $82 million in economic benefits for The City of Calgary, showcases competitions in 45 skill categories, including everything from Autobody Repair to Website Design and Landscape Gardening to Fashion Technology. To keep the Competition environmentally-friendly, Keddy said the best option in the city is to use the Calgary Transit.
"WorldSkills Calgary 2009 goal is to be the greenest Competition to date in the 59-year history of the event," said Richard Walker, President and CEO of WorldSkills Calgary 2009 Ltd.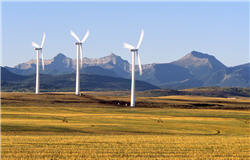 Through Calgary Transit's "Ride the Wind" program, zero-emissions wind power is purchased to power the C-Train system. This has saved an estimated 46,000 tonnes of carbon dioxide in 2008 and over 220,000 tonnes since 2001, the equivalent of over eight million vehicle trips annually. Since the launch of this program, Calgary Transit has received several prestigious awards including the global Special Merit Award for Contribution to the Environment.
In 2007, Calgary Transit introduced 60-foot articulated buses, which carry more passengers than the regular length, taking more vehicles off the road. No stranger to influxes on the system with events such as Calgary Flames hockey games and the Calgary Stampede, Keddy expects to be able to handle the extra passengers with ease during WorldSkills Calgary 2009 September 1 – 7.
For more information, visit: www.worldskills2009.com