Professional education in Brazil: the challenge of expanding access with quality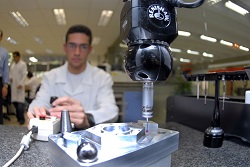 The Brazilian population has a positive view of professional education. Research conducted with 2,002 people over 16 years old in 143 municipalities suggests that there is an understanding that technical education offers good opportunities for those who want to enter the labour market. According to the survey, 90% of respondents agree that whoever has more technical education has more opportunities than those who do not take any courses. On salaries, the view is positive: 82% agree that professionals with vocational certifications have higher salaries than those who do not.
The challenge for the country now is to build a network of information on opportunities for courses and jobs, and thus assist people when making their choices to enter the job market.
Brazil still has a very low percentage of young people with professional education. Data from the Organisation for Economic Cooperation and Development (OECD) shows that the average of young people taking secondary education along with technical training is at 35%. Although more than 80% of youth are outside of higher education, the education system continues to act as if they were all destined for university. SENAI advocates a change in the educational matrix of the country in order to strengthen professional education. A young person coming out of regular high schools today has not even had a one-hour lesson to prepare for the professional life. Brazil only loses with this reality. On the one hand, young people take longer to establish themselves in the labour market; on the other hand, the productive sector suffers from a shortage of skilled workers.
In 2011, the Brazilian government launched a major effort in broadening professional education with the creation of the National Program of Access to Technical Education and Employment (Pronatec). By the end of 2014, 8 million enrolments in technical and initial and continuing education courses should be registered. The National Service for Industrial Training (SENAI) is one of the main institutions responsible for offering courses. Since 2011, about 2.3 million enrolments have been recorded.