Preparations for WorldSkills Leipzig 2013 speeding up: new website online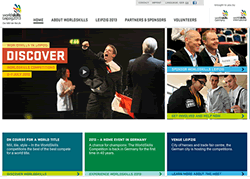 By Werner Kipp, Communications Manager, WorldSkills Leipzig 2013
With only just over a year to go, preparations for WorldSkills Leipzig 2013 are speeding up. Our corporate design is completed, based on colorful bars and inspiring images. The claim is modular with the word "discover" at its center.
If you would like to discover more about WorldSkills Leipzig 2013 we have promotional material available that we will gladly share with all WSI Member organizations! If you wish to create your own material in that design, WorldSkills International has the design manual available and can provide you with more details.
As a central source for information on all aspects of the event, our new website has been launched. Please find out more at www.worldskillsleipzig2013.com!
Also, we will soon start searching for volunteers in a joint conference with the City of Leipzig. If you wish to create a unique event with us and to volunteer at the Competition, you are invited to send your application to Volunteers@worldskillsleipzig2013.com.
Planning and preparation with our venue partner Leipziger Messe is advancing well too. To provide enough room for each skill, we added 10% to the space each discipline had in London. In several meetings, we briefed the Workshop Supervisors on the latest progress. The final layout for the five halls will be done when we learn more about the numbers of Competitors in their respective skills.