Plumbing Champions complete Healthabitat South Africa Sanitation Studio programme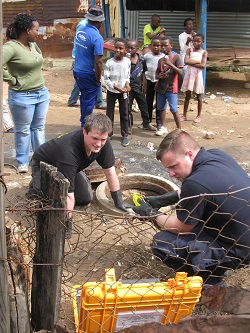 Between 10 and 20 March 2014, the Plumbing and Heating Gold Medallists from the past two WorldSkills Competitions, Shane Trevitt (United Kingdom – WorldSkills London 2011) and Ciaran Coady (Ireland – WorldSkills Leipzig 2013) completed a visit to Diepsloot, South Africa in support of the Healthabitat Sanitation Studio in collaboration with local community partner WASSUP (Water, Amenities and Sanitation Service Upgrade Project).
This Sanitation Studio is one of four international Healthabitat projects supported by the WorldSkills Foundation (WSF). It is further linked to International Association of Plumbing and Mechanical Officials (IAPMO), RMIT (Royal Melbourne Institute of Technology – Australia) and the World Plumbing Council. In Diepsloot, WSF support has included funds for the construction of a range of upgrade works, and the participation of two WorldSkills Champions.
Upgrades implemented by our plumbing Champions included new isolation valves, toilet pans, cisterns, secure doors, washing facilities, wastewater drainage solutions, and data loggers to track water usage which will allow for better maintenance in future. All works were completed in close collaboration with the local team, ensuring knowledge and skills transfer for all.
WASSUP have estimated that the work of Shane and Ciaran will help improve basic levels of sanitation for between 500 and 1000 people in the immediate area. The project proved a great success, and as a result WASSUP and Healthabitat have confirmed further collaboration for data evaluation, communications, ongoing technical support and a project review in August 2014.
Healthabitat Director, Paul Pholeros, described the efforts of Shane and Ciaran over the ten-day period as "extraordinary", adding that while he has led similar projects in many parts of the world he has "rarely seen such competence and ease with the local community in someone so young". We congratulate our Champions on their fantastic achievement alongside all involved in the Diepsloot program, and look forward to following its progress over the coming months.
Shane and Ciaran share thoughts on the project before departing Diepsloot in this video.