PAEET hosts WorldSkills International Board of Directors in Kuwait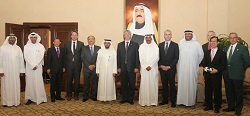 In June the WorldSkills International Board of Directors met in Kuwait to partake in a number of successful meetings and get a glimpse of the newly built Skills Training Centre.
A recent Member to WorldSkills, The Public Authority for Applied Education and Training (PAAET) joined in 2012 after participating in GCC Regional Competitions. After competing at WorldSkills Leipzig 2013, the Kuwait Skills Team recognized the benefit of building a skills training centre for the region. This training centre would not only help Experts prepare and train Competitors but help promote skills competitions both locally and regionally, ultimately becoming a skills centre of excellence. The Board of Directors had the ability to not only see the centre and its future plans but were able to meet with the instructors and hear their goals and ambitions. The centre is the first of its kinds in the GCC region and is anticipated to fully open in April 2015.
Along with a Board of Directors meeting, the Board also met with the state's new Director General of Education to provide information and insight into WorldSkills.