One School One Country wrap up from Leipzig 2013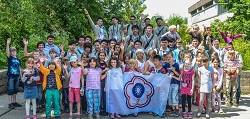 One School One Country (OSOC) just completed its fourth installment in Leipzig, Germany as part of the 42nd WorldSkills Competition. The program began in 2007 in Shizuoka, Japan as a way to engage the local school children in what the international Competitors were doing. It has become a global cultural exchange program. Schools are chosen throughout the local area that is hosting the WorldSkills Competition and they are paired with a WorldSkills team from around the world. The students will learn about their partner country, its culture, food, games and language. Then during the actual Competition, the team will visit the school for a true cultural exchange. The experience is memorable for the Competitors, students and teachers.
In Leipzig, Germany more than 4,000 students aged 7-10 took part in OSOC this year. On 2 July, approximately 1,000 international Competitors went and visited their 53 partner schools. The Competitors had the opportunity to experience life in a German primary school and some took part in a mini skills competition set up by the school. Approximately 4,400 students and teachers visited the Competition on 3 July as part of the OSOC programme.As part of the onsite visit, students had the opportunity to meet the State Minister of Eduation of Saxony, Mrs Brunhild Kurth.
There was also a contest among the schools where they answered questions about skills and WorldSkills in a rally format for a chance to win €500 (which was sponsored by the Chamber of Craft in Leipzig). The winning school was 120. Grundschule, the partner school for Team Netherlands.
We would like to thank all the students, teachers and schools for participating in this experience, the Competitors enjoyed the exchange and for some it is the most memorable thing from the entire event.