One School One Country - pupils excitedly prepare to meet their partner countries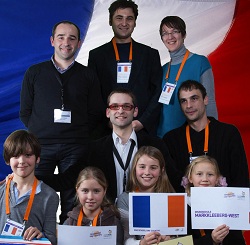 By Sally Eley, WorldSkills International
Students from schools in and around Leipzig met Delegates from the countries/regions they were paired up with in the One School One Country initiative when they came to a special event during Competition Preparation Week.
Students and staff introduced their schools at the event and talked about the excitement they felt about being involved in the programme which encourages young people to learn about different cultures and countries from around the world.
On 2 July WorldSkills teams will visit the schools and have a chance to talk with students and teachers taking part as well as have the opportunity to view project work undertaken by the children involved.
Guillaume Suteau, representing France as Technical Delegate, attended the event and met some of the children from Morkkleeberg-West, the primary school paired up with France. He said "One School One Country is a fantastic way for children to learn about other countries and cultures from around the world. It is great to have met some of the teachers and children today and have the chance to form a personal relationship with the school. The initiative also adds an additional dimension to the WorldSkills experience for the Competitors and it is very humbling for them when they visit the schools to see just how much work and research has been done to find out about their partner country."
One School One Country is a brillant cross cultural programme developed by the Japanese Organizing Committee for WorldSkills Shizuoka 2007. Since then, the programme has continued to improve and is now a key part of the WorldSkills experience.