One School One Country Launched in Leipzig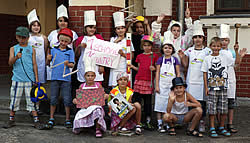 By Sally Eley, WorldSkills International
One School One Country for WorldSkills Leipzig 2013 has been officially launched at the Leipzig Messe at a special event involving the 55 schools taking part and some of the Team Leaders from WorldSkills International Member countries/regions.
The One School One County initiative involves primary schools from in and around the host city for the WorldSkills Competition 'adopting' WorldSkills teams in advance of the Competition so that school children can learn about the culture, values and traditions from another part of the world. Highlights of the programme include the WorldSkills team visiting the school they are partnered with prior to the start of the Competition and the students visiting the international event.
Katharina Ulbrick, a teacher from Dr Margarete Blank Primary School near Leipzig attended the launch and spoke about how delighted she was for her school to be involved in the project:
"We are very excited to find out that we will be learning about the WorldSkills team from Hong Kong. It is great for students to be able to learn about other cultures and it gives them the opportunity to be open minded from an early age about the different ways in which people live around the world.The fact that they will also get the chance to be exposed to a wide range of skills and trades which may spark their imaginations for their future training and career options is also incredibly helpful."
David Hoey, Chief Executive Officer of WorldSkills International, thanked all the schools taking part when he spoke at the launch event.
"The One School One Country programme is designed to engage school children with the Competition and more importantly engage them as global citizens. The schools adopt a country and as part of this they get to experience an exciting adventure, learning about their adopted country and also learning about the importance of skills, trades and technologies to our society. The WorldSkills teams also gain significant benefits from their visits to the schools and they are often made to feel like rock stars when they arrive!"
Ralf Berger who is leading the Leipzig branch of the Saxonian School authority is sure that the participating schools will make the most out of the preparation for the event. He commented
"I had the great experience of witnessing the WorldSkills London 2011 Competition and the One School One Country activities really excited me I am sure our schools will be great hosts for the WorldSkills Leipzig 2013 teams and now that the partnerships have been announced the projects can really start to come to life."
WorldSkills Leipzig 2013 takes place from 2-7July 2013 at the Leipzig Messe.
For more information about the event go to www.wsl2013.com