News from WorldSkills Abu Dhabi 2017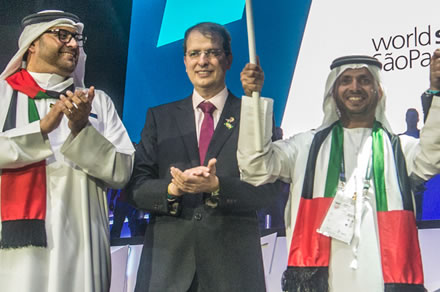 "Marhaba" from Abu Dhabi!  It gives me great pleasure to write this first official communication from the Organizing Committee of WorldSkills Abu Dhabi 2017.  It seems such a short time since WorldSkills São Paulo 2015, yet it is now less than 600 days until we will be greeting you in the capital of the United Arab Emirates (UAE) for the next global Competition.  In the words of the UAE Official Delegate to WorldSkills, H.E. Mubarak Al Shamsi, WorldSkills Abu Dhabi 2017 promises to be an "unforgettable" event. 
Over the next twenty months we will provide a wide range of practical information about the Competition, but in this first communiqué I wanted to focus on two areas – Abu Dhabi the place and why the Emirate is hosting the 44th WorldSkills Competition.
First, Abu Dhabi.  In São Paulo I was struck by how few members of the WorldSkills family have had the opportunity to visit Abu Dhabi.  You are in for a treat.  Abu Dhabi is a first-rate destination with world-class hotels and restaurants, as well as tourism experiences for all.  Abu Dhabi is also just an eight-hour flight from two thirds of the world's population and it has excellent domestic transport links.
When you arrive you will experience the legendary Middle Eastern hospitality – since I came here in 2014 I have been constantly surprised by the warmth and friendliness of the Emiratis as well as the diversity and ambition of the Emirate. While we of course want to put on the very best Competition and event that we can for you the Delegates and Competitors, WorldSkills Abu Dhabi 2017 is also fundamentally important to the economic future of this Emirate.
The leadership of the UAE has through its UAE Vision 2023 and the Abu Dhabi Economic Vision 2030 started the transition of the national economy away from oil and gas.  The hosting of WorldSkills Abu Dhabi 2017 is a vital part of the promotion of vocational skills to UAE nationals.
So thank you in advance to you all for your contribution to this event and I look forward to seeing you in 2017.
In the meantime, we know that many of you will have practical questions so please do reach out to Michelle Hardy, the Senior Coordinator Customer Service, at membersupport@worldskillsabudhabi2017.com.