New Zealand Tool Blacks training gets underway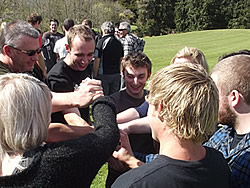 By Sally Gray, WorldSkills New Zealand
Following the recent announcement of the New Zealand Tool Blacks team for WorldSkills Leipzig 2013, the Competitors met for their first training camp at end of September.
At the camp there were a range of activities where they got to know one another and learned to work together as a team. They were given a couple of challenges which made them think and act as a team (and get very wet and muddy in the process)! They also had developed their training plans with Experts, heard talks from past Competitors about what it is really like at an International competition and received advice about how to present themselves to the media and be ambassadors for their industry and country.
And, of course, the team started their Haka training. The Haka for New Zealanders represents the laying down of a challenge. In Maori culture, the Haka is used when a group visits a Marae (meeting place). It is a challenge to visitors, to find out whether they are friendly or on the warpath. If they are friendly they will accept the challenge and pick up the mere (club) which is placed on the ground at the end of the Haka.
More recently, of course the haka has become synonymous with the New Zealand Rugby team, the All Blacks, who issue the challenge at the beginning of a game. So watch out WorldSkills Leipzig 2013, the Tool Blacks are coming with a challenge for the rest of the World!
The 2013 Tool Blacks team are made up of a focused bunch of 14 highly motivated, young trades men and women. They are excited about the challenge of preparing for WorldSkills Leipzig 2013, are driven to succeed and are committed to putting in the hours of training to ensure they meet the standard required for the international Competition.
Now the camp is over, it is back to work for them all, with weekly training sessions to prepare them for the WorldSkills Leipzig 2013. The team is excited about preparing for the Competition and looks forward to meeting Competitors from around the world.
WorldSkills Leipzig 2013 will take place from 2-7 July 2013 at Leipziger Messe. For more information go to www.worldskillsleipzig2013.com