The Miracle of a Flower Carpet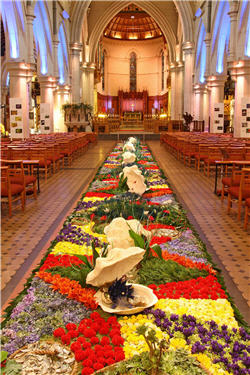 By Joy Knight, New Zealand Expert, Floristy
The enterprise Floral Art Ladies have once again brought the mastery of the floral and fauna carpet display to the Festival of Flowers.
The Christchurch Cathedral floral carpet is a premier event presented by the Floral Art Group in Canterbury and the Floral Art Group North Canterbury.
This was the 20th anniversary of the Festival of Flowers. There is no doubt the Floral Art Ladies along with their fellow floral artist and designer Jan Leaper pulled out all stops. The planning, the designing, the ordering of the flowers.
The logistics to prepare this mammoth task were assisted by the Academy NZ offering their facilities at the School of Floristry in Manchester Street, Christchurch, along with the recent intake of 11 floristry students.
The students studying horticulture at the Academy were the helpers required to bring the heavy large trays to the Cathedral, and set them up on trestles, the full length of the central isle.
It was quickly evident this was team work. The floral art ladies were taking the young floristry students under their wing and magical things were happening.
First every design was marked and covered with wet moss (dyed with green food colouring) leaving the design markings clear. Then each area in the design was given a little flag with the type of flower to be used. It was a very intricate pattern similar to a panel persian carpet.
All through the cutting and placement of the flowers and foliage, visitors from within New Zealand and around the world came to watch with avid interest as the floral carpet took shape.
The flowers used were green hydrangeas, blue gentians, hot red/orange celosia, cream and yellow chrysanthemums, hot pink gerbera, orange asiatic lilies, white lilies, succulent cacti in shades of green grey blue from tiny to enormous. Agapanthus dried and dyed a deep blue and silvered tipped, aspidistra leaves, conifer, ivy leaves, shells, sticks and coils of rope. Huge hand made paper mashie clam shells opened with pearls and sea urchins all intricately woven into the complex design of magical undersea world of flowers.
Thank you to the Floral Art Groups Canterbury and North Canterbury, the students from Academy NZ floristry and horticulture classes and the many growers and suppliers of quality flowers. You have given so much pleasure to visitors and friends of the Festival of Flowers. I look forward to sharing this experience with you all again next year.
Thank you to the Festival of Flowers for the use of this amazing photo by Rodney Love. Please contact Marisa at the Floral Festival for more information www.festivalofflowers.co.nz or email festival.flowers@xtra.co.nz.