Media accreditation, services, promotion and more!
There are only a few weeks until WorldSkills Leipzig 2013 and media is coming alive with questions about the event and accreditation. We would like to provide you with an update about the media services available and how media can find out more.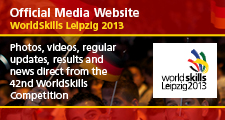 Official Media Website for WorldSkills Leipzig 2013
Once again, the Official Media Website for the event has been established and populated with easy to find and use resources including photos, Competitor profiles, videos, list of past medallists, etc. The address for the website is http://media.worldskills.org
Each country/region, skill and Global Industry Partner has their own page on the Official Media Website. We have set it up to automatically pull in photos, videos, Competitor information and articles relating to that page.
During WorldSkills London 2011, we uploaded over 26,000 high resolution photos onto the WorldSkills Flickr channel and over 50 high quality short vignettes onto WSTV. This year, we plan on uploading even more photos and videos. Plus, we will be covering the event through social media channels like never before.
If you want to get the latest news and to be able to feel like they are part of the event, connect with WorldSkills International on all the social media channels.

Media Centre onsite
The Media Centre onsite at the Leipzig Messe has state-of-the-art facilities and will provide a comfortable place for media to do their work and relax in between shooting and gathering stories. For the most up-to-date hours of operation for the Media Centre please refer to the Official Media Website above.
There will be 25 hot desks available for the media and the entire Media Centre will have access to WiFi. There will also be a few desks with laptops available for any media that do not bring their own. For comfort and relaxation there will be a lounge area where media can purchase snacks and drinks. Printers, photocopiers and lockers will also be available in the Media Centre.
To keep media up-to-date we are planning on having a daily media briefing (schedule on the Official Media Website) where media can get the latest competition schedule information and ask questions. In addition, we will have screens in the Media Centre providing regular news or updates from the Competition floor.
Access to the Media Centre is by accreditation only.
Media Accreditation
You'll see that Media Accreditation has now begun online through the Official Media Website. This is for any media, MarCom or PR staff that work for a skills organization, partner or stakeholder as well as freelancers and certified media (domestic, national and international). We do ask for proof of who the person asking for accreditation is working for.
We encourage all media to accredit in advance to ensure that their badges are printed and ready for them when they arrive.
Official Media Website promotion
We have created a series of web banners in various sizes that will act as direct links to the Official Media Website. We ask that you please embed the banners into your website so that all media know exactly where to go for the latest information and resources. This will also provide a direct link to the photos, Competitor profiles, videos, results and news from the event. For a copy of the web banners please email Michelle Bussey at michelle.bussey@worldskills.org
If you have any questions regarding media leading up to or during the event please contact Werner Kipp, WorldSkills Leipzig 2013 Communications Manager at kipp@worldskillsleipzig2013.com and Michelle Bussey, WorldSkills International Communications and Marketing Director at michelle.bussey@worldskills.org