Marketing and Communications Working Group in London, February 2011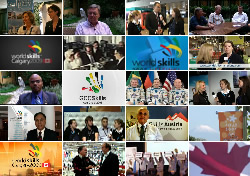 By Michelle Bussey, Communications and Marketing Director, WSI
At the beginning of February WorldSkills International (WSI) and WorldSkills London 2011 hosted the inaugural Marketing and Communications Working Group (MCWG) in London. An invitation was put out to all Members, Partners and Regional Organisations to participate in the MCWG. Seven Members, one Regional organisation, one Global Industry Partner and the next two Host organisations for the WorldSkills Competition (WSC) answered the call. During the three days of meetings the group shared best practices, updated each other on current plans and strategies, visited the site of the WSC2011 – ExCeL London, and gave input into the future of WSI's and the WSC's marketing and communication initiatives.
The MCWG was focussed on:
getting a better and more efficient 'MarCom result' in 2011 and at WSC2011
details & discussion of the WorldSkills London 2011 MarCom strategy
professional presentation on social media and how can WorldSkills (WSI, Host & Members) get effectively on to those platforms
how to utilise limited resources and work more collaboratively
specific details of WSC2011 preparations e.g. promotion, PR, Media Centre, accreditation, photography and videography
WorldSkills TV - expectations and deliverables for WSC2011
Overall, this was a very productive meeting in terms of discussing, learning and understanding some of our Member's structures, ideas, expectations and resources on MarCom – directly from the MarCom persons. As a result the WSI MarCom strategy will reflect the contributions and findings from this meeting and will continue to engage and interact with our Members as everyone struggles with the same challenges. The MCWG will become a regular meeting on the WSI calendar and we encourage all Members to become involved. If you are unable to attend, we will be working hard to continue the discussions and sharing of information on the Marketing and Communications Discussion Forum.
For more information please contact: Michelle Bussey, Communications and Marketing Director, WSI, michelle.bussey@worldskills.org.