Lula inspires the crowd: Get up, go to school, study and be the best!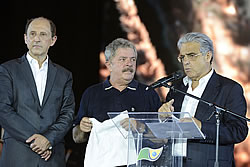 By Michelle Bussey, WorldSkills International
WorldSkills Americas and the Brazil National Skills Competition kicked off with an energy packed Opening Ceremony. With over 1200 Competitors from 27 regions of Brazil and 24 countries present, it was electrifying. Teams were chanting, screaming and jumping around in anticipation. Guest speakers included Brazil's ex-President Lula and Brazilian extreme adventurer, Bernardo Fonseca who was the first Brazilian to win the Marathon Ice in Antarctica.
Luiz Inácio Lula da Silva (Lula) was President of Brazil from 2003-2010 and his popularity was very apparent at the Ceremony. The media surrounded him and all heads turned to watch his every move. Yet he was humble and approachable, he was there for the Competitors. He gave a very inspiring speech to the Competitors talking about his days at SENAI and how important and proud he is of those days, even going on to say that those were his best days because of how much they meant to his family and country. He told the story of how he ran in four elections before becoming President and that the Competitors shouldn't give up, only perseverance will make them successful. He remembers feeling his mother's pride and that is what motivated him to continue. He told the Competitors to
"Get up every morning even if you don't feel motivated. The best gift you can give your parents and this country is to get up, go to school, study and become the best professional you can be."
This was met with deafening applause and screams from all around the arena. You could sense the Competitors rising to the challenge and wanting to compete to be the best.