Leipzig - a city not to be missed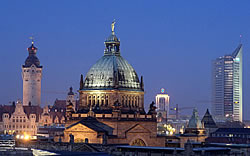 By Werner Kipp, WorldSkills Leipzig 2013
"Leipzig is the new Berlin" wrote Der Spiegel's online edition recently. Once the industrial center of Eastern Germany, Leipzig now attracts artists and the creative class with both its inexpensive rent and vibrant atmosphere. The Saxon metropolis has a diverse cultural scene. Leipzig delights lovers of classical music with the choir of St Thomas's, the Gewandhaus Orchestra and the Bach Festival. For those who prefer something more modern there is the Wave-Gotik-Treffen festival, the cool TH!NK? open air festival and great concerts featuring international stars. For art lovers from all over the world Leipzig has long been the city that sets tomorrow's trends.
"I'm convinced that Leipzig with its fair venue will be an optimal site for the WorldSkills Competition in 2013", says Burkhard Jung, the Mayor of Leipzig. "It's my personal wish to carry WorldSkills Leipzig 2013 further into the city with numerous activities and events. By tradition, Leipzig is a welcoming and enthusiastic city. Therefore, I hope that a huge part of our citizens will be involved."
Leipzig is a German economic metropolis with historic roots. Trade fairs have been held here for over 800 years. After the fall of the Berlin Wall, the cradle of East Germany's peaceful revolution went on to become the innovation powerhouse of East German industry. Siemens, BMW, Porsche, Amazon, DHL and the solar power industry were early arrivals. The Leipzig Fair exhibition center (Leipziger Messe) is the venue for WorldSkills Leipzig 2013. The origins of the fair date back to 1165. Today, it is one of the world's most modern trade fair centres. Up to 30 trade and general interest fairs and 100 congresses and events a year are held in its 181,300 square metres of exhibition space and impressive glass hall event location. Every year, nearly 11,000 exhibitors present their goods and services to 1.3 million visitors from all over the world.
"WorldSkills Competitions are mega events with an international charisma", says Martin Buhl-Wagner, CEO of Leipziger Messe. "Leipziger Messe considers itself as a promoter for the regional economy. Therefore, we got involved intensively in the bid process with our expertise of managing huge events. I'm very happy that we succeeded to bring the WorldSkills Competition to Leipzig in 2013. And I'm proud that the Competition will take place on our fair venue."
"With an alliance of enthusiasm, we will bring together all the excitement and the appreciated efforts of our partners, funders and sponsors", says Hubert Romer, CEO of the Organizing Committee in Leipzig. "WorldSkills Leipzig 2013 will be a unique event with a brilliant venue and a sparkling atmosphere in the host city." Two years ago, the New York Times rated Leipzig as one of the 31 places in the world to go to. WorldSkills Leipzig 2013 surely is a great opportunity to find out why.