Legacy event for WorldSkills London 2011 a resounding success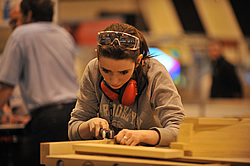 By Kate Moloughney, WorldSkills UK
Just over a year after the United Kingdom welcomed the world to WorldSkills London 2011, Birmingham has played host to over 70,000 visitors at The Skills Show, the first UK annual celebration of skills excellence.
During the three days of The Skills Show (15–17 November), over 500 people took part in 61 WorldSkills UK National competitions ranging from Aeronautical Engineering through to Landscape Gardening. The Competitors secured a place in the WorldSkills UK Competitions after competing in regional heats throughout the UK earlier this year.
The Competitors battled it out to win Gold, Silver and Bronze and ultimately be named the 'best of the best' in the UK at their chosen skill. Skills Minister Matthew Hancock said:
"Congratulations to all of this year's winners. These are skills at their best. We celebrate and salute their skills. Vocational skills helped make the UK in generations past. And vocational skills will build Britain's future. I very much hope today's winners will inspire the stars of tomorrow."
Visitors to the Skills Show were able to cheer on the Competitors competing in WorldSkills UK Competition, try their hand at different skills and receive the latest information on Apprenticeships and other training opportunities. Jaine Bolton, Chief Operating Officer, National Apprenticeship Service and WorldSkills International Official Delegate for the UK said:
"I offer my congratulations to this year's WorldSkills UK winners. They have demonstrated their skill to the highest level. Entering WorldSkills UK Competitions really does have a tremendous effect on Competitors and their employers alike. Past winners have gone on to secure promotions, launch their own businesses and represent their country in their chosen skill. We really want to see more people entering competitions to prove to the whole of the UK just how many talented people we have in this country."
Winners from this year's cycle of WorldSkills UK competitions may be eligible to compete for a place in Team UK for future WorldSkills Competitions, which is the world's largest international skills competition.
The next WorldSkills Competition will take place from 2–7 July in Leipzig, Germany next year. Members of Squad UK, many of whom competed at past WorldSkills UK Competitions, are in training for WorldSkills Leipzig 2013. Training sessions for Squad UK members in Cooking, Confectionery and Beauty Therapy took place at The Skills Show.
http://worldskillsuk.apprenticeships.org.uk/