Join us 14 September to learn from social entrepreneurs making a big impact
BeChangeMaker 2020, our social entrepreneur programme, has entered the last leg with the top 5 teams, plus a mysterious wild card, now heading for the finishing line.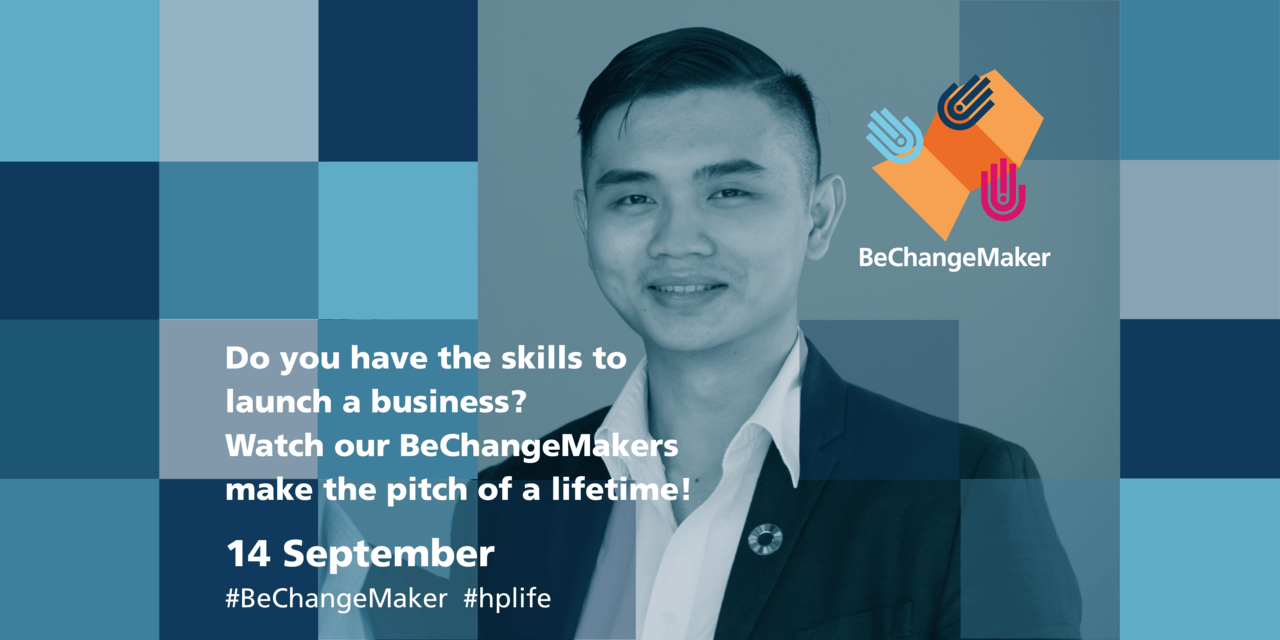 What has been a record year for entrants sees an intriguing selection of brilliant and innovative ideas from young people across the world.
They include projects to fight violence against women, cut food waste, support health education in girls, reduce youth unemployment, and develop new ways of producing eco-friendly energy.
Nearly 500 young social entrepreneurs from over 80 countries crossed the starting line when the programme started earlier this year.
Over the past months the top 30 teams have gone through intensive training and coaching to develop and refine their ideas by volunteers from the HP Foundation and with backing from WorldSkills International.
At the end of this stage, the top 5 teams and the wild card will deliver their final pitch live on 14 September to the judges with public viewing. Register here now to join the grand finale and vote for your favorite teams.
The top 5 teams come from Chinese Taipei, Costa Rica, Pakistan, Cameroon, and an international collaboration of the United States, France, and India.
"Not only have we seen an incredible growth in the interest of young people wanting to join BeChangeMaker, we also have witnessed a huge increase in quality of the teams through the improvement of programme design and selection criteria," says Grace Lung, Senior Manager of Partnership Programmes of WorldSkills International.
"Working closely with this year's participants for the past three months has been an inspiring journey personally. If you want to see how young people are empowered to have the confidence and motivation to improve our world with their technical and soft skills, especially during this challenging time, you can't miss the final pitch on 14 September."
Meet the top 5 teams of BeChangeMaker 2020 teams:
Eat Everything from Chinese Taipei is the brainchild of Chienn Tai, 23 and Lilly Young, 22, with the goal of reducing package waste from the food industry to improve the sustainability of our environment.
They are concerned by both our current eating and takeout habits, both of which produce a lot of waste.
Chienn Tai is a graphic designer with Adobe Autodesk certified trainings.
Chienn's partner, Lily Yang, is currently studying at National Taiwan University of Science and Technology, with a major in Applied Foreign Languages. Lily is familiar with the issues of waste from the food industry after taking the silver medal in Restaurant Service at WorldSkills Abu Dhabi 2017.
The duo's first prototype, EdiPack, was edible biodegradable packaging with added flavours and nutrition they hope could replace current plastic and non recyclable food packing.
They are also developing an online platform for diners to rate their experiences in restaurants with an emphasis on sustainability, and a certification system for eco-friendly restaurants that will help attract eco-conscious customers.
They say BeChangeMaker 2020 has "provided a lot of insight, inspiration, and resources that help us get step to step closer to our goal."
"We wish for a future where plastic packings can be mostly replaced by our edible packing, further spreading the sustainable concept to all over the world."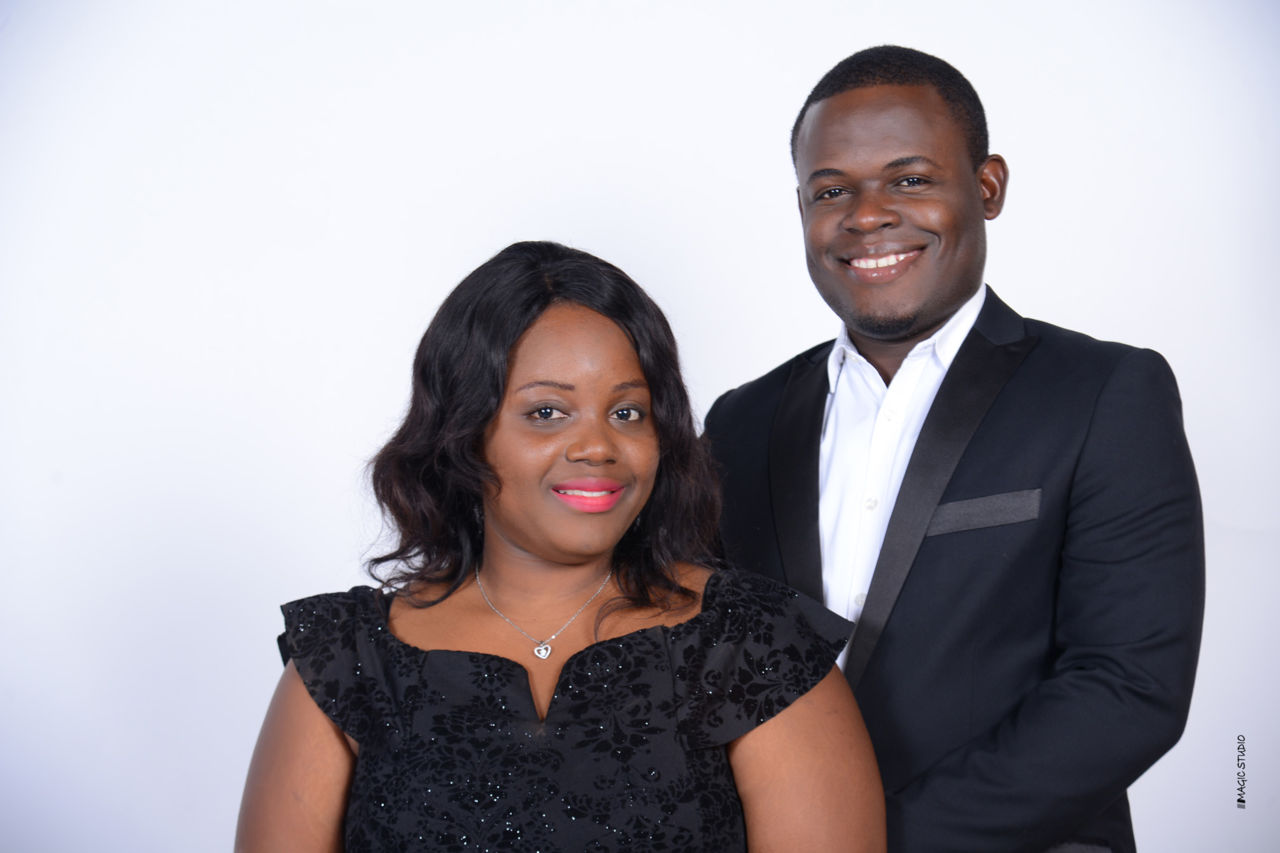 Eco Energy Africa is from Cameroon and headed by Ntongwe Enongene who says his love of the environment began during childhood in the small town of Limbe in the country's south west.
"As a teenager my mother would have me and my siblings spend our holidays at different teen workshops at the Limbe wildlife centre and the Limbe botanic garden where we learnt about plants and animals," Ntongwe says.
"This is where my love for the environment was born, as I was exposed to teachings about endangered animal and plant species and started learning about deforestation and its impact on the environment."
After moving to the UK to study, he earned an MBA in marketing at the University of Gloucestershire and had spent the last ten years working in marketing and sales. It was his travels for business, including 35 African countries, that inspired him to create Eco Energy Africa.
Everywhere he saw had the same realities – rural inhabitants, mostly women and young girls, walking miles to fetch for cooking fuel, mass deforestation for the production of charcoal for export and local use, domestic air pollution, and improper waste management.
It was a documentary on deforestation in Cote d'Ivoire that triggered his action plan. "In over 90% of the countries forest has vanished from the countries reliance on charcoal and over 40,000 of its citizens die annually from domestic air pollution from the use of charcoal."
Eco-Energy Africa aim to transform agricultural waste into clean, affordable energy for households and industry to save lives and trees. They hope to be fully operational by November 2020 to preserve 1,200 hectares of forest and cutting 25,000 tones of CO2 emissions.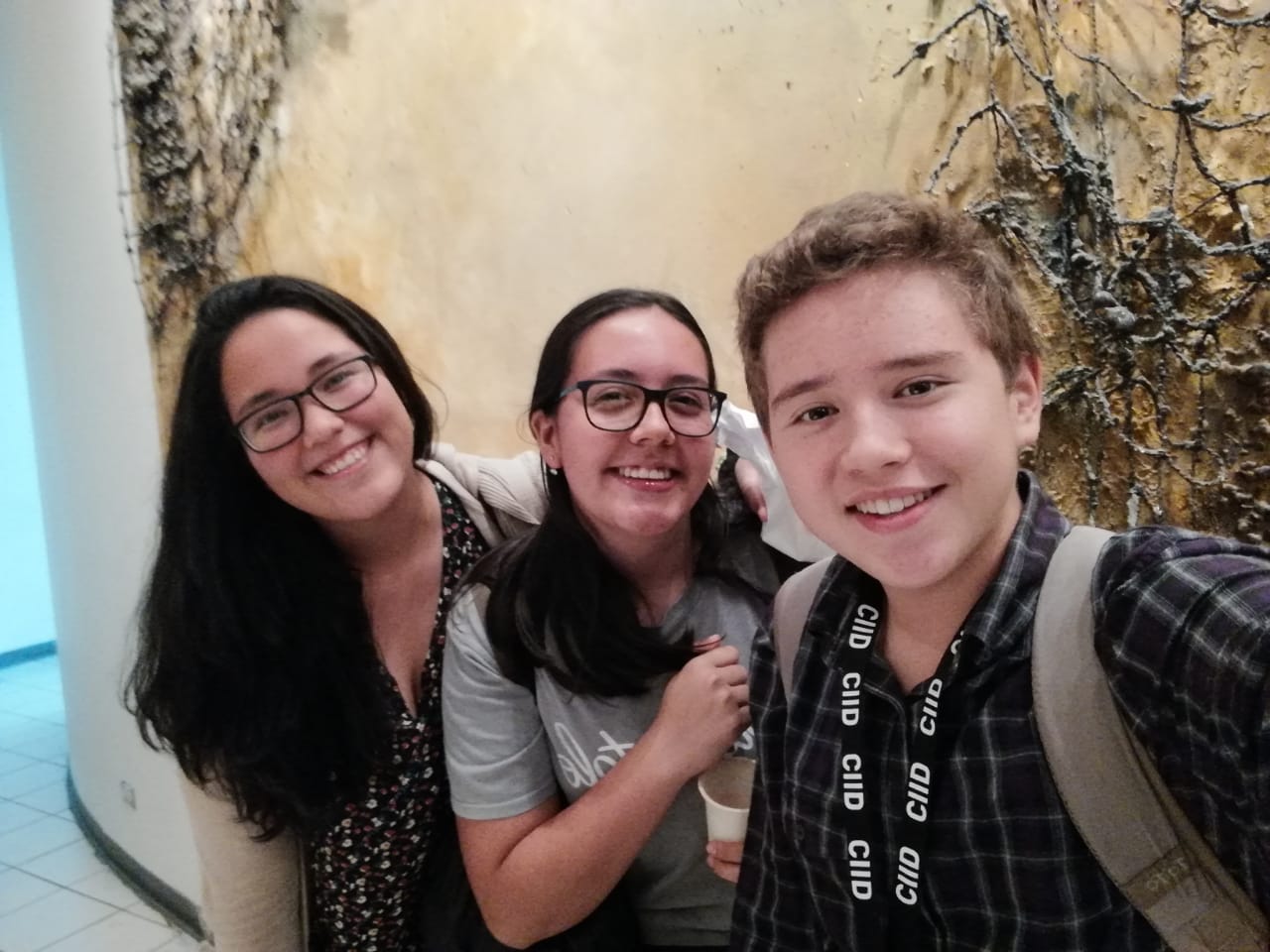 Rosche from Costa Rica was born from the friendship of three young people who first met in high school - Fabiola Blanco Salazar, Viviana Madriz, and Kevin Cordero Brizuela.
It was there that the three discovered that one of the things they had in common was a passion and desire to change the world and help people in need.
They began with a creative club that was, in their own words "a space where people could share their ideas and create solutions for the high school and the community.
"After we graduated from high school, the energy and teachings the club gave us, inspired us to seek a greater way to impact our country and the world."
Roche was born from a brainstorming session that identified violence against women as one of society's greatest problems. This motivation also came from a personal story that demanded a drastic change.
"We are tired of feeling insecure when going out, we are sick of being afraid of the world in which we live, where women and young girls suffer from sexual harassment and violence," they say.
BeChangeMaker 2020 has helped them rise to the challenge of meeting this problem. It has given them the tools and knowledge to improve their ideas and turn them into reality.
"We know this is a unique opportunity, but we are not the same as started, because we have grown, we have learned, and we have become a change maker. No matter what happens, we will always be grateful for this moment."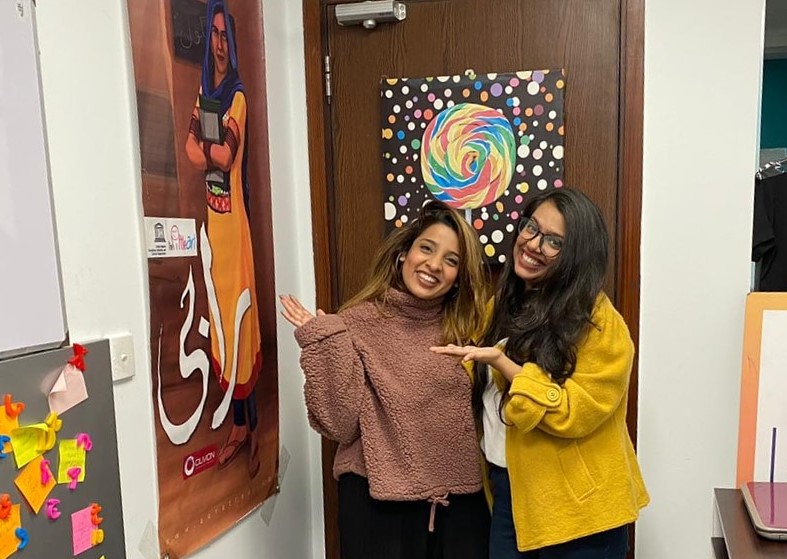 Aurat Raaj from Pakistan is a team of two young women from traditional families who know what it means to fight for the chance to learn and grow.
Team leader Jaya Rajwani is joined by Saba Khalid, a journalist with personal experience of tragedy that includes the murder of childhood friend who was a progressive working mother, and working on the story of the honour killing of social media activist and actor Qandeel Baloch.
Saba has tackled issues like child abuse, honour killings, and reproductive health through her blogs and a cartoon series featuring a superhero called Raaji, show in classrooms in some of Pakistan's more remote areas.
It was after realizing the opportunities presented by technology that Saba decided to expand Raaji into a chatbot that would allow girls to ask questions about their health and hygiene using artificial intelligence.
Last year she joined with Jaya, a software engineer who was the first in her family in this field, to bring in her experience in machine learning and data science that was combined with a passion for using technology for change.
The "Ask Raaji" project was successfully launched in 60 schools in some of Pakistan's most deprived areas, but ran into problems when COVID-19 shut down the education system and saw increasing pressure on their funding from partners and donors.
BeChangeMaker is helping their project survive and thrive during this testing time. "In the last three months, our team has not only learned how to pivot for the COVID and post-COVID world, but we have certainly understood better about how we can run this organization sustainably," says Jaya.
"We believe that with the support we receive through BeChangeMaker we are fully equipped to improve reproductive health."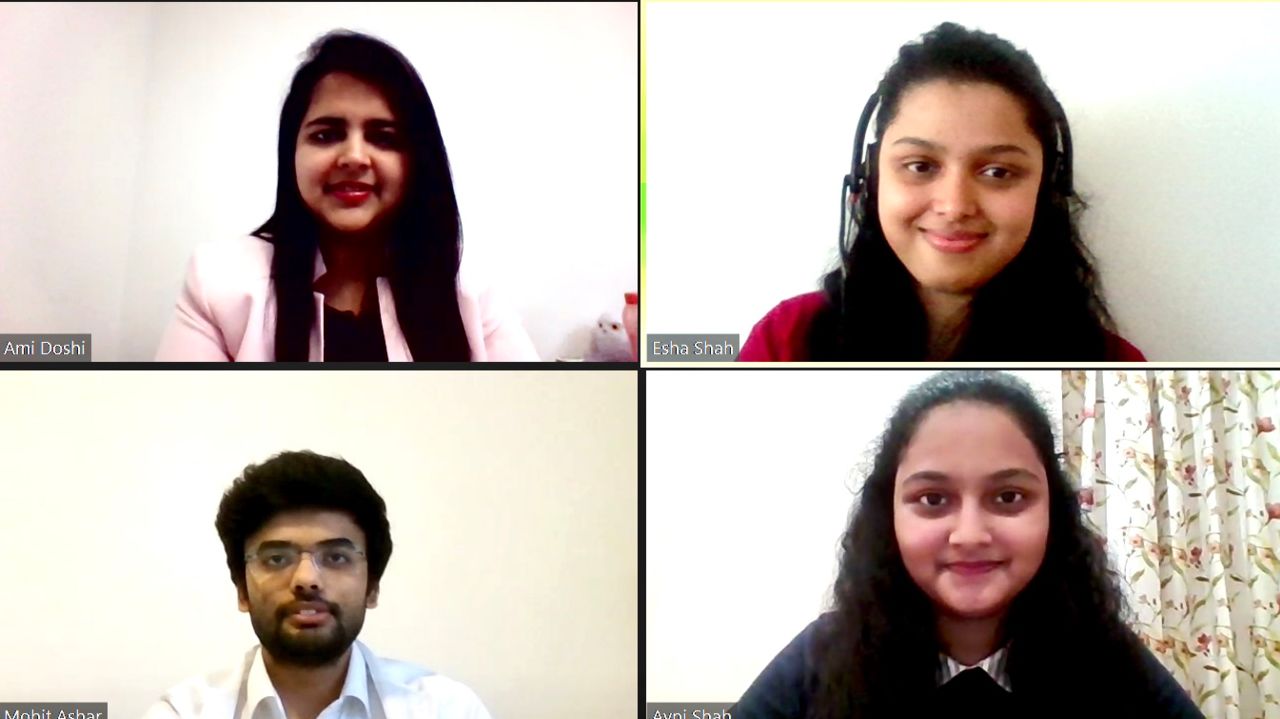 EZDiabetes has members working from India, the United States, and France and was created by Ami Doshi, Esha Shah, Avni Shah, and Mohit Ashar.
Their aim is to create a one stop management platform that will help sufferers from diabetes live healthier lives with the support of their communities.
Team member Avni has personal experience of the disease through her grandmother, who partially lost her sight and had other related health problems.
"This really pushed me to try and create a solution that would help others suffering with similar problems."
"BeChangeMaker has given me the platform to kickstart this project and I am excited to continue working on this," she says.
Team leader Ami explains that with limited health infrastructure in India, their app can be an important tool to improve the quality of life for people with the disease.
The team say people of all ages can suffer from diabetes and that many families experience its impact.
"Seeing the difficulties that come along with this chronic illness and the lack of awareness surrounding it, we decided to change this by taking a step and make change by helping better manage the diabetes with our venture. With EZDiabetes we try to give a diabetic patient a chance to live their lives with sweet tooth again."
Watch the five teams, and a wildcard, give their live pitch on 14 September!