Jamaica wins hosting rights to WSI General Assembly 2010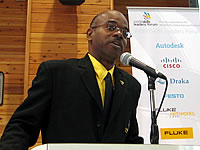 Official delegate for Jamaica, Kevin Mullings at the GA in Shizuoka
At the final General Assembly meeting at the WorldSkills Shizuoka 2007 Competition, the WorldSkills Members voted Jamaica to be the host for its 2010 General Assembly.
Both Jamaica and Singapore were vying for the right to host the 2010 General Assembly (GA). They both offered outstanding facilities and attractions that would provide a first class event plus unique cultural experiences. Via a voting process, Jamaica was the winner.
As part of their bid presentation, Jamaica said the GA2010 would:
Launch the WorldSkills brand in the Caribbean
Bring national and regional attention to skills development
Tie in with the first Caribbean Skills Competition with 15 potential new members
The Caribbean is a business and services destination and there is movement towards a Caribbean Single Market Economy. Promoting a skills respect culture is essential to economic success and hosting the WorldSkills General Assembly will provide a great marketing and exposure boost towards supporting Jamaica's goals in this direction.
For more information please visit: www.worldskills.org or www.worldskillsjamaica.org