Jamaica hosts National Skills Competition
Places for seven skills were up for grabs to represent Team Jamaica at the 46th WorldSkills Competition in October 2022.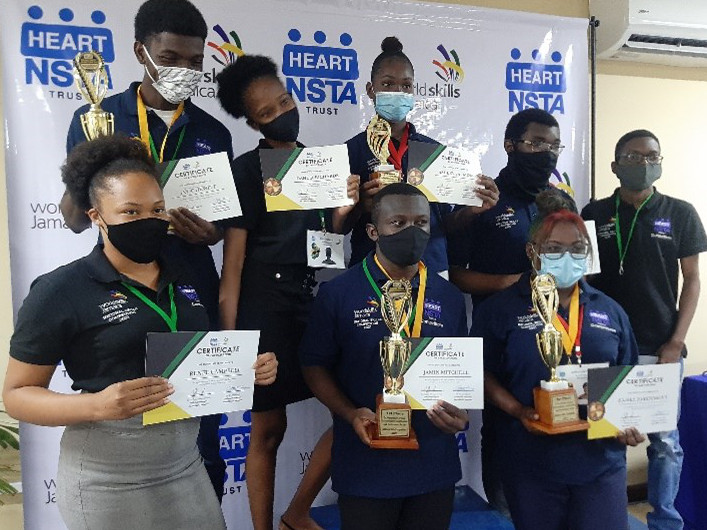 WorldSkills Jamaica hosted its 7th National Skills Competition, showcasing the skills of its most talented young people, demonstrating the potential of Training and Vocational Education to change lives.
With the theme "Investing in Skills Development: Shaping the Future with the Power of Skills", the event drew attention to the fact that too many young people, particularly in the developing world, do not have access to resources and education to prosper and live fulfilling lives.
As ever, Covid restrictions proved a challenge, but the event was recorded and made available for wider public viewing.
The competition was also part of a broader National Skills Week, backed by Jamaica's Human Employment and Resource Training Trust/National Training Agency (HEART/NSTA). That included a National TVET Youth and Career Forum under the theme "Think Skills, Think Future", highlighting the achievements of local TVET professionals.
With an eye on the 46th WorldSkills Competition in October 2022, positions for seven skills were up for grabs on Team Jamaica, including Wall and Floor Tiling, Plastering and Drywall Systems, Welding, IT Software Solutions for Business, Mobile Applications Development, Beauty Therapy, and Mobile Robotics.
WorldSkills Jamaica says "The acquisition of skills is even more critical given the global pandemic and the current paradigm shift that the world is experiencing. WorldSkills Jamaica under the auspices of the HEART/NSTA Trust, remain committed to providing opportunities for growth and development in skills, especially among our young people."
HEART NSTA Trust
WorldSkills Jamaica