Iran celebrate 13th National Skills Competition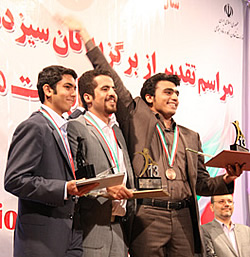 By Ali Tavakoli, Technical Delegate, Iran, Technical & Vocational Training Organization TVTO
The 13th National Skills Competition in Iran has successfully taken place at the city, provincial and national levels. Almost 261,400 Competitors competed at the city level in June 2012 with the top young people advancing to the provincial level which was held in July 2012, in which 8,565 Competitors participated in almost 30 skills.
A total of 693 winners at provincial level competed at the National Competitions which were held from 3-11 October 2012 at the Vocational Researchers and Training Education Centre and Tehran and Alborz General Province Department.
Ali Tavakoli, WorldSkills Technical Delegate for Iran commented: "This Competition has proved to be one of our most successful National Competitions yet and we have seen some outstanding results. It is noticeable that in this Competition we used the cooperation of international Experts who have made a very valuable contribution."
"Our Opening and Closing Ceremonies were also a great success and were attended by over 500 high profile influencers including the Minister of Cooperation, Labour and Social Affairs, the President of TVTO as well as of course the Experts and Competitors". The results of this competition were impressive too. In total, 33 Gold, 30 Silver and 38 Bronze medals were given out along with 186 honourable diplomas.
These winners together with the winners of 12th national skill competitions are now in training for the Iran Team selection for WorldSkills Leipzig 2013.