Introducing the new WorldSkills...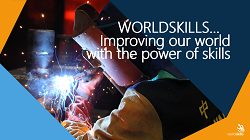 Over the last year, WorldSkills has completed a major rebranding and communications project and we are now ready to share the "New WorldSkills" with you.
What has changed you ask? Everything! We have turned our brand upside down to create a more visually attractive and engaging look. But it's not just the look that has changed, we have also refocused the organization bringing clarity and definition to being much more than just a Competition.
We have changed the logo from full colour to monochrome so that the images and photos of the outstanding people in WorldSkills can speak louder and stronger than the logo. We have adopted new bright and vibrant colours that stand out and are more eye catching. We are using typography more effectively to emphasize key points. These changes combine to provide a younger fresher look. Why all the change? We are a youth serving organization and movement and it is time that we cater and appeal to the youth. Our messaging, imagery and activities will be guided by the goal to increase the awareness of skills excellence and development worldwide.
WorldSkills Foundation and WorldSkills International, while being separate organizations, will now collaborate together under the joint brand of WorldSkills. We share a vision and mission to improve our world with the power of skills, all through our six new focus areas: Advocacy, Competitions and Projects, Education and Training, International Cooperation and Development, and Career and Research.
We are more than a Competition! We are the global hub for skills excellence. Through international cooperation and development through industry, government, organizations and institutions, we promote the benefits of and need for skilled professionals through grass-root community projects, skills competitions and knowledge exchange. We show how important skills education and training is for youth, industries and society by challenging young professionals around the world to become the best in the skill of their choice.