India wins its first medal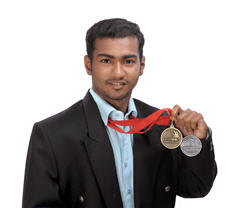 India became a WorldSkills International Member in 2006 and entered five Competitors in WSC2007. But they had to wait two years to scoop their first medal. WSI interviewed Priyadarsan Neekamparambath, Silver medal winner, Mould Making, Team India 2009 to hear his thoughts on his skill and his competition experience.
How did you get interested in Mould Making and end up choosing this a career path?
Even from an early age, I was very interested in mechanical things and trying them out in practice rather than just studying theory. I was always eager to design and create things. I joined technical high school where I was exposed to toolmaking. Then I selected to attend the Tool and Die Engineering course.
Tell us how you were selected to compete in the WorldSkills Competition
My training centre GTTI (Gedee Technical Training Institute) had already participated in WSC2007 in Shizuoka, Japan. So when it came to participating in the WSC2009 in Calgary, Canada, competitions were conducted at my training centre and I was selected to represent India in the WorldSkills Competition.
How did it feel to represent your country at the Competition?
I was really happy and excited when I participated in the Opening Ceremony with all of the Competitors and later competing in Mould Making. The thought of me representing my country in an international competition made me forget my tiredness and gave me the strength to move forward.
Describe how you felt when your name was announced and the medal was put around your neck?
When I heard my name announced at the Closing Ceremony, I think I cannot explain how I felt in that moment in words. It was a total experience filled with joy and pride.
What has the reaction been from the Indian local and national community?
All main newspaper media of my state and neighbouring state instantly interviewed me and reports were published in leading newspapers. TV channels also reported about my accomplishment. I also received an invitation from the Vocational Education Department of India to attend a celebration party in New Delhi and a Certificate for Excellence was awarded to me by the Central Cabinet Minister.
What are your dreams for the future?
Now I am concentrating on work for a few years to get a good amount of practical experience. While continuing my work, I want to improve my knowledge of design software as well as CNC programming and machining skills. This will help me to attain higher levels of employment in my trade.