Hybrid Skills Challenge in Water Technology
Festo and WorldSkills held the first hybrid challenge in Water Technology.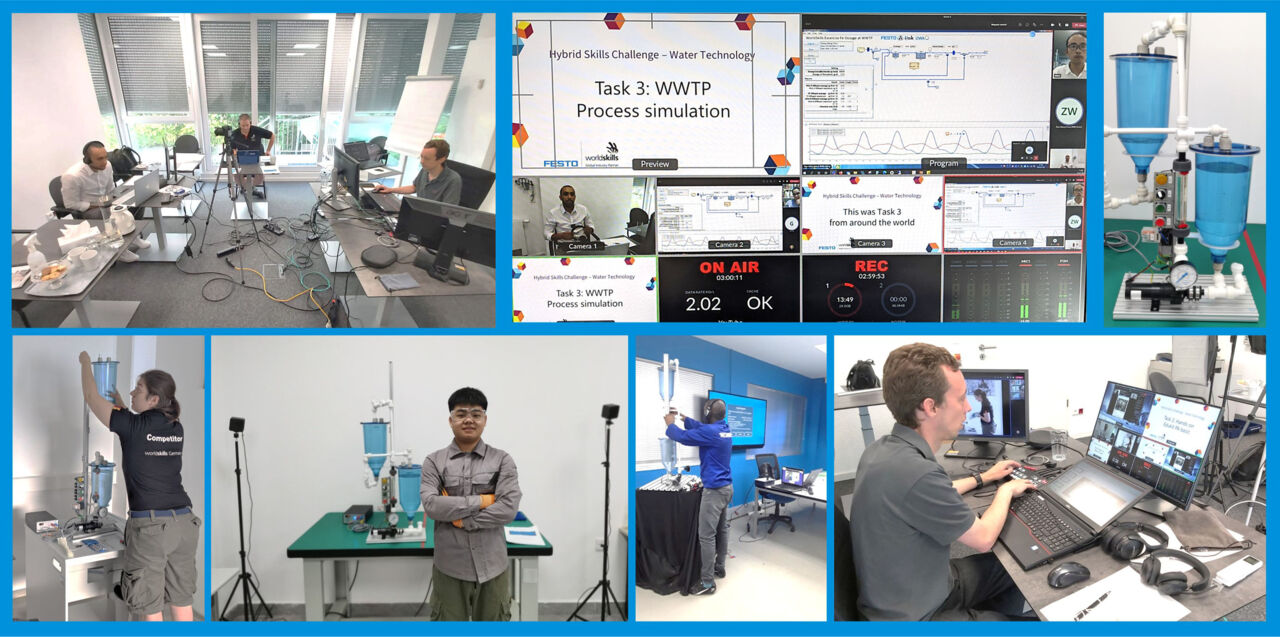 On 20 July, Festo and WorldSkills held the first hybrid challenge in the WorldSkills Official Skill of Water Technology with 14 participating countries.
Pushing Boundaries in the Water Sector and the run-up to WorldSkills Shanghai 2022
WorldSkills declared 2021 the "Year of the Innovation". This precious time can be used excellently to deepen knowledge and to test one's limits in competitive situations. Festo and WorldSkills offered young people this opportunity.
The highly motivated 11 Competitors came from Germany (1), China (2), Iran (2), India (2), South Africa (2), Russia (1), and Belarus (1). They faced three challenges: a speed quiz, a practical task on the hardware, and a simulation analysis on the computer.
The participants, their coaches, and the members of the jury were all active simultaneously in 14 countries: Germany, China, Brazil, Vietnam, Iran, India, South Africa, Namibia, Ghana, Russia, Singapore, Morocco, Japan, and Belarus.
Why do these countries participate in competitions?
They attach great importance to the qualification of young people and have understood that learning through competitions strongly motivates young people. Trained specialists find work more easily and can strengthen the local economy.
How did the Hybrid Skills Challenge look like?
There were three tasks to be solved in the three-hour challenge: the theory part, the practical part, and a simulated analysis on the computer. The theory part consisted of a 30-minute speed quiz with 30 questions not related to the water and wastewater sector. In the practical part, the knowledge of mechanics and electrics were tested on the hardware. For this purpose, the Festo Didactic learning system EduKit PA Basic Equipment was used, which had already been used at the WorldSkills Competitions in São Paulo, Abu Dhabi, and Kazan and will again be provided by Festo Didactic for the next WorldSkills Competition in Shanghai. The third task of the Challenge was solved on the computer: to assess a wastewater treatment plant process comprehension using simulation software. Sustainability played a special role, as the task involved the recovery of valuable chemical substances such as phosphorus for later reuse.
The common language of English, the different time zones, and the technology used presented a challenge in itself.
Congratulations to the dedicated participants!
On the winners' podium stepped:
First place
Ms. Maren Nagel - Germany - Trainee as specialist for wastewater technology at Stadtentwässerungsbetriebe Köln (StEB Cologne)
Mr. Zikang Zhang - China - Student at Beijing Industrial Technician College, Beijing
Second place
Mr. Zhang Xueping - China - Student at Beijing Industrial Technician College, Beijing
Third place
Mr. Damir Mukhamedgaliew - Russia - Student at Nizhnekamsk Polytechnic College
All participants had a lot of fun with this international hybrid challenge, pushing them to top performances and bringing them a bit closer to WorldSkills Shanghai 2022.