High-level TVET conference to convene in Singapore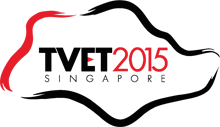 The Singapore International TVET Conference 2015 (TVET 2015) takes place over four days, 3-6 November, and the WorldSkills Member in Singapore - Institute of Technical Education (ITE) - is an organizer of this important event. This year's conference theme is "Advancing the Future Skills Agenda", highlighting and sharing trends, policies, and best practices in TVET from around the world. Participants can follow any of three content tracks:
Effective Leadership, Planning, and Capabilities for TVET
Leading Practices in Curriculum Design and Delivery for Quality Outcomes
Strategic Partnerships and Collaborations
Conference speakers represent leaders in Technical Vocational Education and Training from organizations and agencies involved in worldwide skills education, training, research, and policy. The experience and expertise of the presenters will ensure an informative and catalytic suite of keynote speeches, plenary sessions, and panel discussions across the conference programme. Coupled with the conference programme is an Executive Immersion Programme that affords conference attendees the opportunity to visit local vocational technical education institutions.
Evidence of the importance of conference, Deputy Prime Minister and Minister for Finance of Singapore, Mr Tharman Shanmugaratnam, will officiate and deliver the Opening Address at the start of conference. From 2003 to 2008 Mr Shanmugaratnam served as Singapore Minister of Education, and he holds an impressive background in finance, policy, government, and academics.
This global conference provides Members and stakeholders in the WorldSkills movement an immediate opportunity to extend the rich learning, dialogue, and connections that began in August through the Conference Programme at WorldSkills São Paolo 2015. You can learn more about TVET 2015, and can register now at www.tvetsingapore.com.