Healthabitat Sanitation Studio updates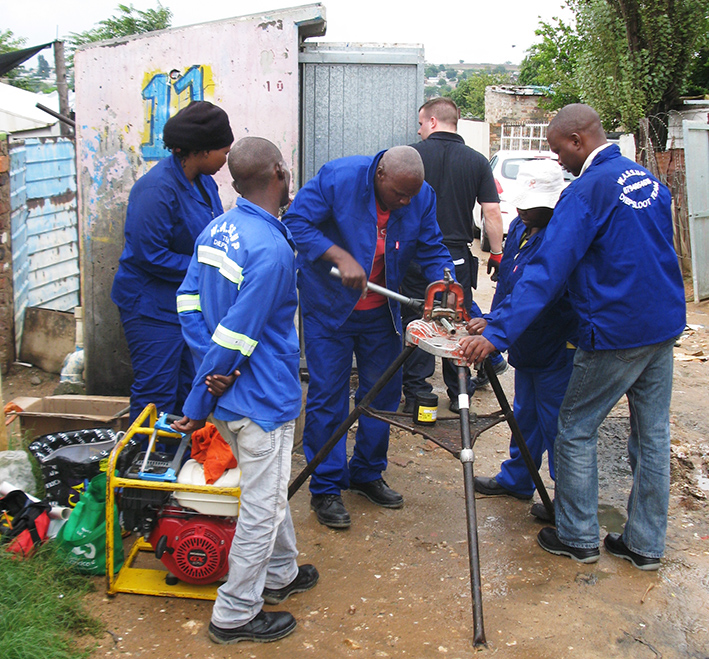 The WorldSkills Foundation is proud to support the continuing development and expansion of the Healthabitat Sanitation Studio programmes in Nepal, Bangladesh and South Africa. Exciting expansion plans have been approved for each project, and we now look forward to facilitating the involvement of more WorldSkills Champions and Experts in each of the programmes over the coming months. Interested? Get in touch!
In Nepal, the Village Sanitation Programme has so far built 132 new toilet facilities, accessible to approximately 1,000 residents from three village areas in the mountainous Bhattendanda region. The local team have carried out further upgrades on water supply, basins for hand washing and teeth cleaning, and installed a wastewater system for a school of 400 children. With increased demand for the programme by many surrounding villages, the programme will now expand into new locations, finding new partner communities, and where necessary, modifying existing designs to better suit the local conditions and available materials.
The Bangladesh Sanitation Studio focuses on design and construction of new septic systems and soakage trenches at two sites in the rural Dinajpur region. Detailed monitoring and evaluation has been carried out during 2014, with a view to a minimum of four more wash and toilet facilities being developed, based on revised designs and specifications. Local team members have been trained in water sampling techniques to ensure personal and community safety. Participants from WSF's inaugural Water Innovation Challenge (June 2014) will join the programme in early 2015, and plans for this mission are now underway.
In South Africa, an initial pilot project to improve 10 toilets, tap points and drains in a small part of Diepsloot (where 250,000 people live in a 4km2 area of tin shacks with minimal services) has achieved to dramatic results. Accurate data progressively recorded by local teams indicates that four million litres of water have been saved from the upgraded facilities, and similar works have been commenced elsewhere in the Diepsloot area as a result of the new credibility and public exposure the Sanitation Studio programme has received. WSF will support the project's expansion to address a further 20 toilets and wash facility upgrades in the first half of 2015. Following discussions with delegates during the General Assembly, we are now planning further integration and involvement from across the WorldSkills South Africa network.
Expansion of the Nepal Sanitation Studio
The work of Healthabitat's South African partner, WASSUP Diepsloot
WorldSkills Champion Shane Trevitt (UK) on his Diepsloot experience
Are you interested in getting involved with Sanitation Studio, or any other WSF projects? Do you have a project idea you want to share? Please contact info@worldskillsfoundation.org