Have a Go activities promise to excite and engage visitors to WorldSkills London 2011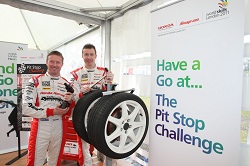 By Sally Eley, WorldSkills London 2011
As well as watching the Competition, visitors to WorldSkills London 2011 will have the chance to try out a huge range of skills in each of the seven skill sectors on display at the Competition.
Have a Go opportunities will be available throughout the event close to the skill competition areas so that if a visitor is interested in any of the skills they see they can try them out. Each of the Have a Go areas will also have a careers area offering advice and guidance about jobs and careers.
From mocking up a shop window in a Visual Merchandising challenge to airbrushing parts of a car using a spray gun for a chance to try out Car Painting, onlookers to the Competition will be able to Have a Go at a multitude of different skills.
The range of options on offer have been designed to be as engaging as possible. Young people will be able to make their own 'burglar alarms' at the Electrical Installations Have a Go and budding florists will get the chance to make their own button holes as part of the Floristry activities.
Aidan Jones, Chief Executive of WorldSkills London 2011 explains why Have a Go is an important part of the visitor experience.
"Seeing the Competition in action is an exciting prospect and offering Have a Go activities will allow the visitor to try some of the skills out for themselves in a fun environment. Those who are inspired to find out more can then go on to learn more about a career in that skill."
All the Have Go opportunities on offer at the event are being put on by colleges, training providers and employers who have all gone through a selection process to ensure a first class experience for visitors.