A great honour for several people involved in WorldSkills London 2011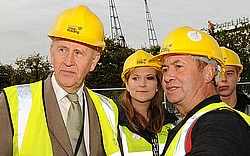 In the United Kingdom, every year a list is created that recognizes people for their outstanding service and achievements, called the Queen's Birthday Honours List. For the first time ever, people have been recognized for their work and efforts for WorldSkills International. These people were all actively involved in the success of WorldSkills London 2011 and legacy that continues to grow in momentum throughout the UK.
David Cragg, OBE received the Commanders of the Order of the British Empire (CBE) for his efforts as Deputy Chairman of the WorldSkills London 2011 Board of Directors.
Aidan Jones received the Officers of the Order of the British Empire (OBE) for his leadership and efforts as WorldSkills London 2011's Chief Executive.
UK's own Technical Delegate, Eugene Incerti, was honoured with the Member of the Order of the British Empire (MBE) for his continuing work at WorldSkills UK and WorldSkills International as well as his part in the success of the WorldSkills London 2011.
The following industry specialists and WorldSkills Champions received the Member of the Order of the British Empire (MBE) for their outstanding contributions to their skills and the overall event:
Jenna Bailey, Workshop Supervisor Beauty Therapy
Keith Nicolas Chapman, Ambassador Landscape Gardening
Adam Peirson, Ambassador Cooking
Richard Sagar, Ambassador Electrical Installation
We would like to congratulate all the recipients. Their efforts and recognition is an inspiration to the whole WorldSkills community!