Global Skills Marketplace details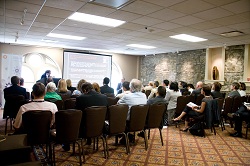 By Michelle Turpin, WorldSkills International
Being held on Friday 7 October, the Global Skills Marketplace (GSM) will feature dozens of 50-minute interactive and engaging seminars. GSM sessions are dedicated to global skills issues covering a variety of themes that include emerging technologies, best practices, research, industry involvement, partnerships and the future of vocational education and training.
Participants register for up to 5 sessions that will bring together leaders from around the world to network, share best practices and learn from others. Be sure to check out the sessions offered found at www.worldskillspremiere.com.
Register in advance for the sessions that you wish to participate in as there will be very limited tickets available onsite. You can pick your sessions and register on the website above.
For any information, please contact michelle.turpin@worldskills.org