Get ready for Competition Preparation Week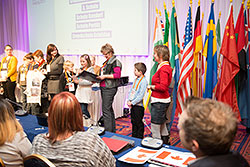 In early 2015 WorldSkills will come to São Paulo to develop and prepare for the biggest vocational education and skills excellence event in the world. From 31 January to 5 February organizers, partners, students, teachers, sponsors, partners, Delegates, Experts, and specialists will meet together to plan and share the excitement as it builds towards the August 2015 event.
Competition Preparation Week (CPW) will be held at the Renaissance São Paulo Hotel. The selection of this venue was carefully thought out in order to allow participants to capture the "feeling" of the city in the best way, since it is one block from Paulista Avenue, the financial and cultural heart of the city, surrounded by attractions, shops and renowned restaurants.
Competition Preparation Week signals the six month countdown to the 43rd WorldSkills Competition and will be the launch of various activities all aimed at attracting attention and engaging stakeholders and the public around the world.
The much anticipated One School One Country programme will be launched with Delegates meeting their representative schools, providing an opportunity to learn about other countries' and regions' values, traditions and cultures, while providing students with information about the possibility of a career in skills, trades or technologies.
While focussing on the detail of preparing to stage more than 45 skill competitions at Anhembi Park, where the Competition will take place, WorldSkills will meet with sponsors and partners as they learn more about WorldSkills and understand how their contributions further expand this global movement.
Representatives from Members' marketing and communications groups will meet to discuss promoting the event as not just a Competition but a multifaceted event that is considered to be the global meeting place for government, education, industry and association leaders to discuss relevant and important issues related to skills worldwide.
"Our entire team are committed to providing the best São Paulo has to offer so that all participants can do an excellent job of preparing and planning for the success of WorldSkills São Paulo 2015," says Regina Nascimento, Event Coordinator.